February 11, 2021 | Business Success
A Quick Q&A Ahead of Your Second Draw PPP Loan Application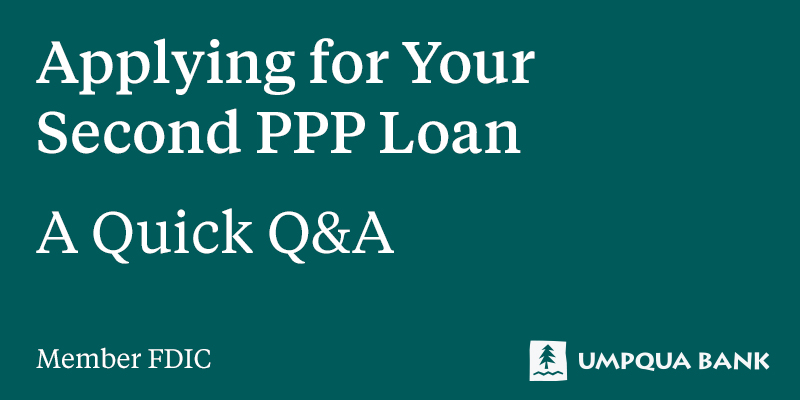 For information about the February 24 through March 9 exclusive PPP application access window for businesses with fewer than 20 employees, as well as other changes upcoming to the program click here.
If you received a PPP loan in 2020, here are some things you should know ahead of applying for another in 2021.
If you received a Paycheck Protection Program (PPP) loan in 2020 but are interested in another for 2021, you may be in luck:
The U.S. Small Business Administration (SBA) recently implemented a "Second Draw" loan for 2021 for previous PPP borrowers.
With the new Second Draw PPP loans comes new details you should know before you apply. Check out the video with some of our bankers below for more information on Second Draw PPP loan topics like,
The types of businesses eligible to apply.
The types of expenses that may be covered.
Information you should have on-hand before applying.
How loan amounts are determined (especially for businesses with only one employee).
Tips for completing your application.
Applying for Your Second Draw PPP Loan through Umpqua Bank
If you're already an Umpqua Bank customer, you can access the application web portal through your Online Banking account or from your local banker or store.
If you're not an Umpqua Bank customer, you can request information about a Second Draw PPP loan application from one of our bankers or stores in your area. Click here to schedule an initial appointment.
More Information
The following are links to additional resources referenced in the video above:
Applying for Your First PPP Loan? Here's What You Should Know

Applying for Your First PPP Loan? As you prepare to apply for your first PPP loan, here's a quick Q&A to help you better understand the program.

February 11, 2021

Business Success

Top Regulatory Changes for Business in 2020

February 14, 2020

Business Success

Five Ways to Find the Right Bank for Business Growth

Even in the midst of a pandemic, there are still opportunities for business growth – and the right bank can help you find them.

June 10, 2020

Business Success

How to Protect Your Business Capital

April 17, 2020

Business Success

Smith Tea: Becoming an E-commerce Business Overnight

When COVID-19 hit, Smith Tea knew it was time to act.

October 13, 2020

Business Success

Cybersecurity: Protect Your Business Data at All Costs

January 02, 2020

Business Success

Know When to Hold 'Em, Know When to Fold 'Em

December 01, 2020

Business Success

7 ways to get more from your business card

February 14, 2020

Business Success

What the CARES Act Means for Small Businesses

April 17, 2020

Business Success

Re-Open for Business: How to Protect Yourself from Liability

As restrictions loosen, you may be preparing to reopen to a new normal. Learn how to protect your business from COVID-related liability.

June 10, 2020

Business Success

These Unprecedented Times: Darren Marshall, CEO and Ravi Kroesen, Head Teamaker, Smith Teamaker

January 04, 2021

Business Success

Leverage Foreign Exchange in a Global Marketplace

February 14, 2020

Business Success

Cybersecurity: People, Debt, and Culture

December 04, 2019

Business Success

5 Facts for Business Owners About Merchant Services

COVID-19 has changed the way we interact. As a business owner, you need a payment processing system that can adapt. Merchant services can help.

June 18, 2020

Business Success

Automated Accounts Payable

AP Automation goes beyond saving time and money and provides a strategic advantage for your business.

June 17, 2020

Business Success

Why Cashflow Management Should be Top-of-Mind When Planning for 2021

Despite continued economic uncertainty, three key considerations could help strengthen your business's cashflow for 2021—and beyond.

November 05, 2020

Business Success

Fraudsters Spoofing SBA Target PPP Loan Recipients

August 13, 2020

Business Success

Understanding the CARES Act Tax Revisions

The federal coronavirus economic relief plan includes some significant tax provisions that may affect you. Here's everything you need to know.

April 13, 2020

Business Success

Five Ways Your Business Benefits from Using a Commercial Card

Improve Your Business's Cash Flow and Unlock Potential Growth: Five Ways Your Business Benefits from Using a Commercial Credit Card

January 22, 2021

Business Success

Understanding Paycheck Protection Program Loan Forgiveness

How much, if any, of your Paycheck Protection Program loan qualifies for forgiveness? We're here help you find out.

July 22, 2020

Business Success

Facing the Inevitabilities of Cybercrime

December 04, 2019

Business Success

7 Solutions to Help Your Business Navigate COVID-19, Economic Uncertainty

March 11, 2020

Business Success