May 05, 2020 | Money Matters
Are you getting the most out of Umpqua Go-To?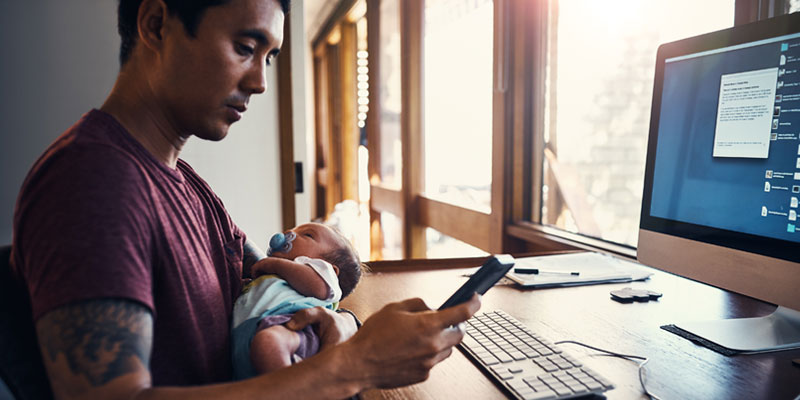 Many of us are staying home during this current phase of the COVID-19 crisis, but it's easy for you to stay connected with us through the Umpqua Go-To app. You may already use it to check your balance, but there are so many ways to get the most out of the app. Our bankers can help you with almost anything you would ask an associate in a store. They can also pull in experts on anything from mortgages to small business loans. Read on for tips on how to get the most from the app.
Step-by-step help
If you're not an expert on virtual banking, don't worry. Lots of folks are in the same boat, and our bankers will help get you up to speed. We can walk you through the process to set up online banking, help you with mobile deposits, and troubleshoot any issues that come up. Even if you just want to chat, we're here.

Relevant advice
In this current crisis, many of our customers are dealing with income loss, whether from losing their jobs or having to close their businesses. Your Go-To banker can help you figure out what to do if this happens, with budget strategies for living off your savings and options for financial assistance with your mortgage if you need it. We can also help you navigate aid programs, which we know can be quite confusing.
Managing accounts
Your Go-To can definitely help with day-to-day account maintenance. Just chat them for assistance with things like resetting your password, adding signers, debit card increases, or fraud reports. You can open a new account, loan or line of credit. And if you just want to know your balance or see when a check will clear, we're on it.
Ready to bank with Umpqua Go-To? Just let your personal banker know how they can help and you're on your way. Get started today.
Need to talk to your banker? Right now?
With Umpqua Go-To, your dedicated banker is only a tap away.
Learn more
Tax Tips: 5 Last-Minute Ways to Save Money on 2018 Taxes

March 25, 2019

Business Success

Understanding the CARES Act Tax Revisions

The federal coronavirus economic relief plan includes some significant tax provisions that may affect you. Here's everything you need to know.

April 13, 2020

Business Success

Internet Fraud: The Other Hidden Virus

March 25, 2020

Money Matters

Financial life lessons from the Pacific Crest Trail

A comfortable retirement is a lot like a months-long hike: the more detailed the planning, the more likely you'll reach your destination.

December 31, 2020

Money Matters

How to Resist Temptation and Save More in 2019

January 30, 2019

Money Matters

Holiday Shopping Online Safety Guide

November 20, 2018

Money Matters

Beware this COVID-19-Themed Social Security Scam

April 03, 2020

Money Matters

Budgeting for uncertainty

If the idea of budgeting gives you anxiety, we're here to help with some simple steps to begin or revisit your budget.

July 23, 2020

Money Matters

What You Need to Know About Divorce and Dividing Assets

October 21, 2019

Money Matters

What is Phishing? Know the Signs to Avoid Phishing Attempts

July 24, 2018

Money Matters

Fight Fraud: Know What Your Bank Won't Ask You

Fraudsters are getting better at posing as representatives of banks to trick unsuspecting customers. Here's how you can help protect yourself.

November 10, 2020

Money Matters

10 Ways to Protect Against Fraud

January 27, 2020

Money Matters

Medical Costs Can Add Up—Use a Health Savings Plan to Get More

November 02, 2018

Career Path

Three Tips to Help Secure Your Online Banking Experience

Three Tips to Help Secure Your Online Banking Experience in Honor of Safer Internet Day.

February 09, 2021

Money Matters

5 Tips to Save Money on Holiday Travel

November 09, 2018

Money Matters

Beware Cupid's Fraudulent Arrow: How to Protect Your Money and Your Identity from E-Romance Scams

Beware Cupid's Fraudulent Arrow: How to Protect Your Money and Your Identity from E-Romance Scams

February 09, 2021

Money Matters

This Christmas, Gift Yourself Savings: Holiday Budget Tips to Start the New Year Right

December 12, 2018

Money Matters

Coronavirus and Protecting Your Financial Health

6 Steps to Plan and Save for Your Dream Vacation

February 12, 2019

Money Matters

More Mobile Banking Means More Mobile Bank Fraud

More mobile bank users might mean more mobile bank fraud. Luckily, there are a few key steps you can take to protect your financial information.

July 27, 2020

Money Matters

Money in Motion: Planning for 2019 and Beyond

January 01, 2019

Money Matters

Know When to Hold 'Em, Know When to Fold 'Em

December 01, 2020

Business Success