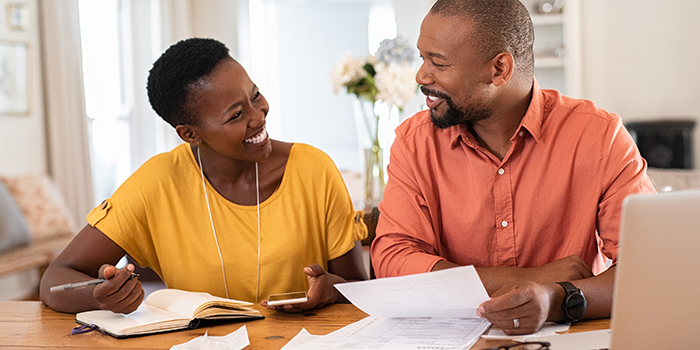 See how choosing the right checking account can save you money and simplify your finances.
According to a new survey from GoBankingRates, 88% of Americans have checking accounts.[1] No surprise there; without one, it's hard to pay bills and more difficult to get a credit card. But a checking account isn't just a holding cell. It's a toolkit for managing your money.
Here at Umpqua, different checking accounts come with savings options, ATM rebates, opportunities to earn interest and more.
The "best" checking account is one that gives you just what you need to handle your finances the way you want to. Your checking account should suit the path you're on—and the place you want to be.
Got a Need for Speed?
Right now you can explore and open a checking account online in as little as 10 minutes. And all of our checking accounts offer mobile and online banking, so you can check balances, make deposits, and transfer funds quickly and easily anytime. Plus you can pair your account with Go-To, our secure, direct texting connection between you and a financial expert of your choice.
Starting Out or Starting Over: Embark Checking
Antoine de Saint-Exupéry famously said, "To travel happy, one must travel light," and he should know: He was a pioneering aviator (long before he wrote "The Little Prince"). Less is more when you're about to start adulting, or approaching new curves in life. Umpqua's Embark Checking account can help you keep your finances simple, but with room to grow.
Avoid monthly maintenance fees: no monthly maintenance fee
Start with just $25
Add a savings account (with one monthly transfer from checking)
Eyes on the Prize: Access Checking
The house. The school expenses. The luxury yurt you always dreamed of building on the coast. Whether it's a passion project, deep-rooted responsibilities, or both, it takes focus to build the good life for you and yours. Access Checking helps you stay organized and avoid surprises.
Take the money and run. You get up to four non-Umpqua ATM rebates per month
Give each goal a home. Open up to three Grow Savings or Thrive Money Market accounts
Avoid Monthly Maintenance Fees. Complete just one of the following monthly transactions to waive the account's $5 service fee: 10 or more debit card purchases, one direct deposit of $500 or more, or one mobile deposit of $250 or more.
For the Trailblazers: Attain Checking
Fortune favors the bold, and so should your checking account. When you have lots of prospects and an appetite for adventure, your best bet will make it easier to go big. Umpqua's Attain Checking account helps you make the most of your current and future financial opportunities, with these benefits and more:
Let it grow. You'll earn interest
Get a little extra. You're eligible for bonus interest when you open new Certificates of Deposit (CDs)
It's on us: No charge for overdraft transfers or incoming wires, and 0% international processing fees