March 10, 2020 | Community
Coronavirus and Protecting Your Financial Health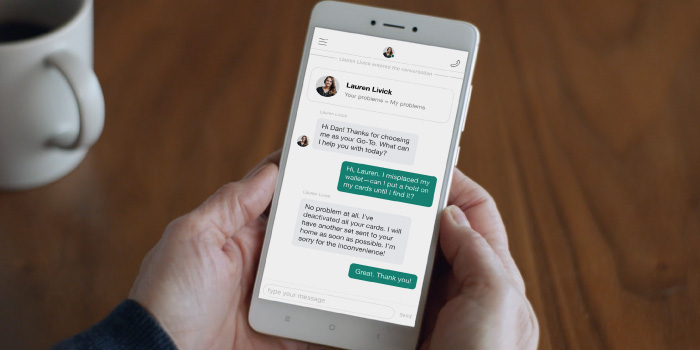 How Umpqua's digital tools can keep you safe.
The Coronavirus has reached our shores and we all have a million questions. How many times a day should I wash my hands? Do I need to change my daily routine? Is it safe to travel?
If you're like most of us and you're taking some precautions like staying home if you're sick and avoiding crowded places, we have some good news. We make it easy to manage your finances from anywhere. In fact, our app, Umpqua Go-To, brings your banker (a live, human banker) right to you, so you can handle your banking from home.
At Umpqua Bank, our highest priority is ensuring the health and safety of our associates and our customers. We want you to know that we're taking every necessary precaution to keep everyone who walks into our stores safe. Our ultimate goal is to ensure the safety and well-being of everyone and to continue to serve your financial needs without interruption.
As we collectively work to contain the spread of the virus, there are a number of ways we can help each other stay safe. From common sense health tips to financial tools that don't require you to leave the comfort of your own home, here are a few suggestions to keep in mind in the weeks and months ahead.
Common Sense Health Prevention
Oregon Health & Science University recently sent a note reminding us that "the virus is most likely spread like other respiratory viruses, so the care that you would normally take to avoid catching the flu is a good place to start for preventing the spread of COVID-19."
According to the Centers for Disease Control and Prevention (CDC), there are a number of ways to prevent the spread of COVID-19. These include:
Avoiding close contact with people who are sick.
Avoiding touching your eyes, nose and mouth.
Staying home when you are sick.
Covering your mouth or sneeze with a tissue then immediately throw your tissue in the trash.
Washing your hands with soap and water for at least 20 seconds, especially after going to the bathroom.
It's also a good idea to review the CDC's complete list of preventative actions.
Protecting Your Financial Health
The great thing about banking in the digital age is you can easily manage your finances - from any device - right from the comfort of your own home. From mobile banking to our new Go-To app, here are a few of the digital services you can leverage to ensure your financial life is safe and sound.
Umpqua Go-To
Umpqua Go-To brings the bank right to you through our app. It lets you chat with a real, live financial expert who can handle your banking needs. Question about your loan? Need to order checks? Lost your debit card? Whenever something comes up, just message your banker and get assistance. No chat bots. Just real help, from a real person, when you need it. Download the Umpqua Go-To app.
Mobile Banking
Use the Umpqua Bank Mobile Banking app to access all the benefits of online banking through your mobile device. Whether you need to check a balance, pay a bill, stop a payment, or deposit a check, the app makes it easy to tap, snap and go. Download the Umpqua Bank Mobile Banking app today.
Online Banking
View all of your accounts and manage your finances in a convenient and secure way through Umpqua online banking. Its's easy to check balances, transfer money or pay bills. Sign up at SelfEnrollment.UmpquaBank.com.
Umpqua Pay
Umpqua Pay is a secure mobile payments app that can help you enjoy more control, more convenience and more confidence when using your Umpqua Bank Debit Card. Make your Umpqua Bank Visa Debit Card work smarter in one easy-to-use app - so life's a little easier.
Securing Our Future
We urge you to take common sense precautions with your personal and financial health and use the tools we have to stay safe. As always, if you have any questions or concerns, please do not hesitate to call us at (866) 486-7782 Monday through Friday, 8am – 6pm and Saturday and Sunday, 8am to 5pm.