February 12, 2018 | Career Path
Comedy Writer Baratunde Thurston Talks Money and Happiness
Open Account Podcast
Season 1, Episode 2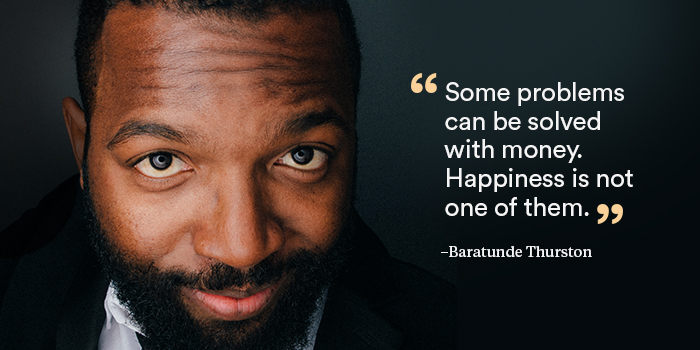 Earning a living off being true to yourself and the happiness that comes from doing what you love
Baratunde Thurston is having it all. He wrote a New York Times best seller, How to Be Black, he was the Director of Digital for The Onion and he's now landed the biggest job of his life: Digital Producer of The Daily Show. His work is honest, funny, poignant and prolific.
Hit play to listen to the full episode, where SuChin Pak talks to Baratunde about his financially-unstable childhood in D.C to his thriving adult-life in NYC and what fuels him to live his best life.
Open Account is a podcast that promotes real and necessary conversations about the role money plays in American life. It's hosted by SuChin Pak, and brought to you by Umpqua Bank and Slate Group Studios.
Get new episodes of Open Account as soon as they're released. Subscribe for free on iTunes or Stitcher.
Advice at no extra cost
Lost ATM card? In the Go-To app, your dedicated banker is only a tap away.
Learn more
3 Ways to Weather Variable Income

June 06, 2018

Career Path

Medical Costs Can Add Up—Use a Health Savings Plan to Get More

November 02, 2018

Career Path

Learning to Grow Through a Sudden Career Change: Open Account with SuChin Pak and Bryan Clay

February 13, 2018

Career Path

The Weight of the World: Scott Showalter, CEO Oregon Symphony

December 16, 2020

Career Path

Paycheck Checkup: One Simple Task That Will Make Next Year's Tax Season Much Easier

April 26, 2018

Career Path

For What It's Worth: Bradley Paul on Open Account

February 08, 2018

Career Path

The Elusive Payoffs of Show Business with Ravi Patel and Lena Waithe

February 08, 2018

Career Path

Beyond Tuition: 10 Ways To Save Money on College Expenses

September 24, 2019

Career Path

Changing Jobs: 5 Financial Tips to Help Make a Seamless Switch

October 31, 2018

Career Path

The Art of Getting Credit Where Credit's Due with SNL Writer Paula Pell

February 08, 2018

Career Path

Give Yourself A Financial Check-up

October 11, 2018

Career Path

Practical Dreamers: The Financial Challenges of Being an Immigrant

February 08, 2018

Career Path