February 08, 2018 | Career Path
For What It's Worth: Bradley Paul on Open Account
Open Account podcast: Season 3, Episode 2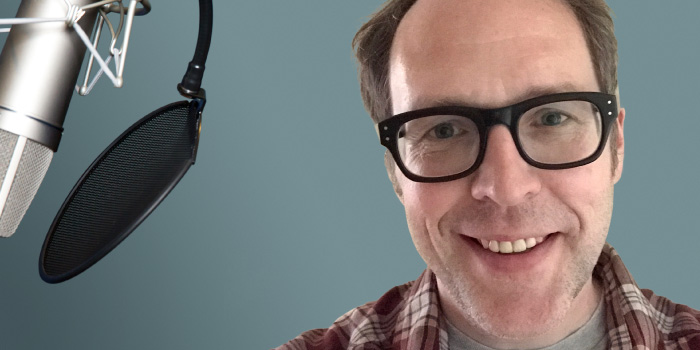 In our society, money does more than simply buy us the things we need. For many Americans, money equates to social standing and a personal sense of achievement, a concrete measurement of all they've accomplished.
But in our achievement-focused culture, how do we hold on to our sense of self-worth, when it doesn't match up with our net-worth?
At Umpqua Bank, we understand that not everyone's financial or professional goals are the same. That's why we're using our podcast to start tough conversations about money and personal finance, to inspire listeners to take charge of their finances without shame or hesitation. In this episode of Open Account, host SuChin Pak talks to writer and poet Bradley Paul about the ups and downs of his career, and how he's balanced his creative aspirations with the financial needs of himself and his family.
How Do You Measure Worth?
In a world where we judge each other by the clothes we wear, the zip code we live in, and the cars we drive, net worth is considered an important measurement of success. But what if it didn't matter—what would life look like? That's what we asked Bradley, a writer from Baltimore whose life has swung between a very successful career as a screen writer in Hollywood and a starving-artist poet. "One of those pays better than the other," he joked.


For Richer or Poorer
If you're struggling to make ends meet while pursuing your passion, then you can probably relate to Bradley. Before he was a working writer in Los Angeles, he was teaching poetry as an adjunct college professor, making next to nothing. "Anyone who's broke will know, everything seems to go wrong at once. Like your heat will go out and your car will break down and your glasses break. All you can do is laugh," he said.
At the end of his financial rope, Bradley decided to try his hand at writing screenplays. Although he enjoyed the process, it wasn't easy going. "I wrote probably 20 scripts over 15 years that never got made and will never see the light of day," he said. Broke, deeply in debt, Bradley gave himself an ultimatum: he had six weeks to write one more script—then it was time to find a "real job." That script turned into an episode of the hit show Hawaii 5-0, and with that, Bradley's career as a TV writer took off. He's gone on to write for the critically-acclaimed AMC series, Better Call Saul, drawing from his own life experiences to add depth to the show.
Throughout the financial highs and lows, Bradley came to realize that his self-worth isn't attached to his paycheck. "I can see the connections now between what I'm doing and how much I'm making, but they seem somewhat arbitrary. I'm a writer because I love writing." He still writes poetry on the side, not because it brings much money, but because it brings him joy. As Bradley learned, when you spend your life doing what you love, you become rich in ways that have nothing to do with the size of your bank account.
Click the link to listen to the full episode of Open Account, where SuChin Pak talks with Bradley Paul about how his struggles with money have made him the writer he is today.
Open Account is a podcast that promotes real and necessary conversations about the role money plays in American life. It's hosted by SuChin Pak, and brought to you by Umpqua Bank and Slate Group Studios.
Get new episodes of Open Account as soon as they're released. Subscribe for free on iTunes or Stitcher.