February 12, 2018 | Community, Money Matters
Dr. Donna Beegle on Breaking the Cycle of Poverty
Open Account podcast: Season 3, Episode 1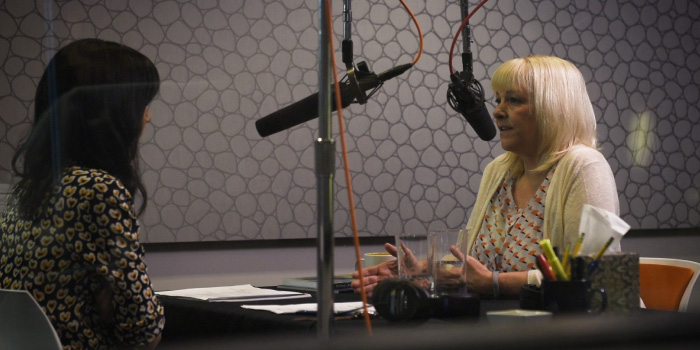 Our goal with Open Account has always been to talk to people about their relationship to money: how they use it, sometimes lose it, the way it changes beliefs, affects relationships and everything in between. From compelling stories about handling money after divorce, to the work it takes to achieve the American Dream, we've covered it all. But we've never talked about what it means to have never had money at all, and not know if you ever will. On this episode, we're diving headfirst into what it's like to live in poverty.
Our host, SuChin Pak, sits down with Dr. Donna Beegle, a rare academic that can actually speak from experience. The only person in her family who has never been incarcerated, Dr. Beegle had only ever known poverty. At 26, she couldn't read a newspaper. Today, she's one of the most powerful voices in the conversation around poverty in America, and there's no one better to speak with authority about what it takes to break the cycle.
What's it like to never have money?
Poverty is multi-faceted, incredibly complex and rarely talked about. It can be fragmented into different types, like "situational," "absolute," and "relative" poverty. In Donna's case, she grew up knowing what it's like to live in generational poverty, a more complicated type of poverty that had been handed down through the generations long before Donna was born.
Most of her family members never learned to read or write, so the jobs they're limited to are temporary or seasonal. Spending most of her life homeless, Donna remembers that they often lost the few possessions they had. "Well, deep generational poverty, you don't have any records. You're constantly being evicted. Your stuff is being left. I tell people that I don't know what I am. Am I Swedish? I don't know. There's no history," Donna shares.
As a society, we tend to cast quick judgement on those who struggle to pay their bills. And when you're on the other end of that judgement, you start to believe what people say. "I didn't think I was smart. I didn't think I had anything to offer anybody. Your whole life becomes about subsisting. How do we make it through the day? It's never about a future." Donna confesses.


Living on the Edge of Society
Donna's story may sound shocking, but it's common among America's poor. A lot of the statistics she shares with her students today, she's lived firsthand. She was married at 15, couldn't read until 26, thought it was normal to keep your teeth in a cup by 30, and no one she knew lived past 60. Infant mortality rates for women in poverty are equal to third-world conditions; Donna only had two children to show for her six pregnancies.
At 26, things hit a breaking point. With 72 hours until her lights would be turned off and not a dime left from her welfare check, she was about to be on the streets with her two young children. "We were in crisis," Donna says, hearing the weight of the world in her voice. So, she turned to a community action agency for help with the electricity bill. They not only paid her bill, they told her about a new pilot program for women like her.
That was the beginning of a very long road for Donna, to discover her self-worth and her capabilities, while fighting every day to dig herself (and her family) out of generational poverty. She went on to earn her doctorate in educational leadership at Portland State University and today, she shares her story across the globe as the President of Communications Across Borders, a consulting firm dedicated to helping people understand the causes and effects of poverty.
"We are the only country in the world that teaches our people they are the cause of poverty. Because we don't talk about poverty, we don't teach about poverty, people in the United States, they internalize it," added Donna. She shares her exceptional story with anyone who will listen and she doesn't take a second of it for granted.
Open Account is a podcast that promotes real and necessary conversations about the role money plays in American life. It's hosted by SuChin Pak, and brought to you by Umpqua Bank and Slate Group Studios.
Get new episodes of Open Account as soon as they're released. Subscribe for free on iTunes or Stitcher.