February 12, 2018 | Business Success
The Farmer's Almanac: California Farmer Jagpaul Badhesha Carries on the Family Business
Open Account podcast: Season 3, Episode 8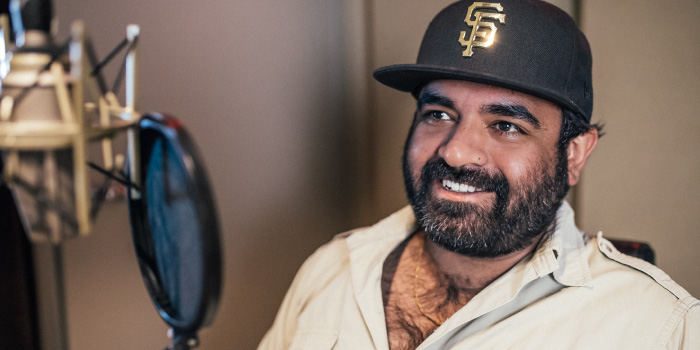 On Open Account, our guests get honest about how they live in harmony with their money—or try to. As a farmer in California's Central Valley, Jagpaul Badhesha knows all about harmony. His business relies not just on financial harmony, but harmony with nature. With over 1,000 acres of grapes, almonds, and other California staples, Jagpaul's income is at the mercy of everything from weather patterns, to the California property market, to China's growing middle class.
From Punjab to Fresno: A Hard-Earned Legacy
The Badhesha family has been farming for generations. Jagpaul's great-uncle came to California from India, and labored on other people's farms to earn enough money to buy his own land. By the 1970's, Jagpaul's father had one of the largest Indian-owned farms in the country—until he lost everything during a few years of bad luck.
Growing up, 32-year-old Jag saw his parents work tirelessly to rebuild what they'd lost. It's part of why he's so committed to carrying on the family business, despite the challenges.
"[A] lot of kids my age, they're like, 'Well, farm land's worth so much. Why don't we just sell it all and cash out?'"


One Paycheck a Year
Instead, Jag works year-round to bring his crops to a volatile market, never quite knowing what the future will hold. As a farmer, he gets "one paycheck a year," which he has to manage with tremendous foresight, planning crops and business strategies three to five years into the future.
"You learn to be modest and humble with what comes in, because you don't know what the future's going to be."
As Jag explains to host SuChin Pak, success in farming requires the ability to make bold, forward-thinking changes while staying firmly rooted in the present. He stays informed on the latest innovations in robotics and genetic engineering, but his daily routine changes with the seasons, and he's always aware that his livelihood depends on the sun, water, and soil. While he sees boundless opportunities in what technology can do for his business, he remains committed to preserving precious resources.
Inner Peace
For Jag, success in farming, and finances, depends on his attitude more than anything else.
"We were raised with Sikhism, and one of the main tenets is...that you should always be ever optimistic, even in the worst times, so you can never lose your cool. You have to find inner peace, because that's the way we can develop solutions."
Open Account is a podcast that promotes real and necessary conversations about the role money plays in American life. It's hosted by SuChin Pak, and brought to you by Umpqua Bank and Slate Group Studios.
Get new episodes of Open Account as soon as they're released. Subscribe for free on iTunes or Stitcher.