February 08, 2018 | Aging Gracefully, Feeling at Home
Passing the Torch—And the Wealth: A Conversation with Velma Davis & Kenya Davis Hayes
Open Account podcast: Season 3, Episode 7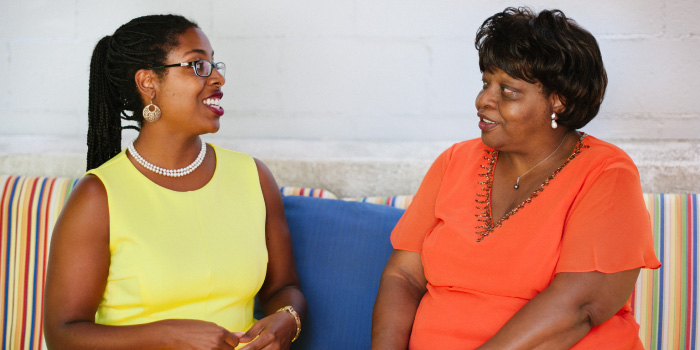 Even the closest family bonds don't make it any easier to talk about money. In fact, a 2014 study found that the most challenging topic to discuss with others is personal finances, topping the list over topics like death, politics and religion. At Umpqua, our goal is to change how we talk about money by starting frank conversations about money's role in our lives. Today we want to talk about something that most families dread discussing: what to do with their estate. In this episode of the Umpqua Bank podcast, Open Account, a mother and daughter open up about transitional wealth, and the tough decisions that come along with it.
A Legacy in Transit
Velma Davis grew up in Maryland in the 60's, as the country was beginning its historic journey to desegregate schools. Velma faced challenges when her family left their housing project, and became the first Black homeowners in their neighborhood. This was the first of many trailblazing experiences in Velma's life. As she says, "We came from a family where failure was not an option. My great grandmother was a slave and my grandmother could not read or write. My mother…finished high school but that was very difficult...every generation my family was told 'You got to do better.' And so I was the first person in my family to go to college."
Velma was a member of the University of Maryland's first en masse integrated graduating class, and she didn't stop there. She continued her education all the way to grad school, and then did something no woman in her family had ever done: buy a house. Through a series of smart real estate purchases, Velma and her husband, Everett, have steadily increased their net worth. Now they're retired and face an interesting problem: what should they do with their wealth?


Facing the Future
Enter Kenya Davis Hayes, Velma's daughter and sole benefactor. They're as close as can be and talk about everything—except what to do with all of Velma's properties. As many Americans grow older, it's a question many of us are facing—how do we take care of the financial legacy our parents have built? "It's the American dream to have transitional wealth," said Kenya, who is in her mid-thirties. "But I don't think we ever really talk about what to do with that wealth when you have it. That piece is never filled in."
Growing up, Kenya had a hand in caring for her mother's properties. Whenever a tenant moved in, she would put on her grubby clothes, go in and do a deep clean to get the house ready for the next tenant. From an early age, she felt a responsibility to care for the properties as if they were her own—because they would be someday.
As she grows closer to taking the reins, Kenya says she occasionally feels pressure and doubt. "I sometimes wonder if I have fortitude," she admitted. "What if I drop the ball? What does that say about me?"
There are other questions for Kenya as well. She has a PhD and is busy building a career, so she has limited time to maintain five properties. Should she sell some of the properties and invest? What would the tax implications be? And then there's the emotional investment to consider: Kenya feels protective of these houses, because they are her mother's legacy.
Like so many of us, Kenya has some big decisions to make about her financial future. And while she doesn't have the answers yet, at least she's starting to talk about her options with her family members.
As for Velma, she's just grateful to be able to give Kenya opportunities that she never had.
"As someone who came out of the projects, to be able to transfer some degree of wealth to Kenya is just amazing," added Velma. "I just want her to do well with it—that's so important to me."
Hit play to listen to the full episode of Open Account, where SuChin Pak speaks with Velma Davis and Kenya Davis Hayes about transferring wealth between generations. p>
Open Account is a podcast that promotes real and necessary conversations about the role money plays in American life. It's hosted by SuChin Pak, and brought to you by Umpqua Bank and Slate Group Studios.
Get new episodes of Open Account as soon as they're released. Subscribe for free on iTunes or Stitcher.