July 05, 2018 | Aging Gracefully
Learn the Warning Signs of Elderly Fraud and How to Protect Your Loved Ones from Scams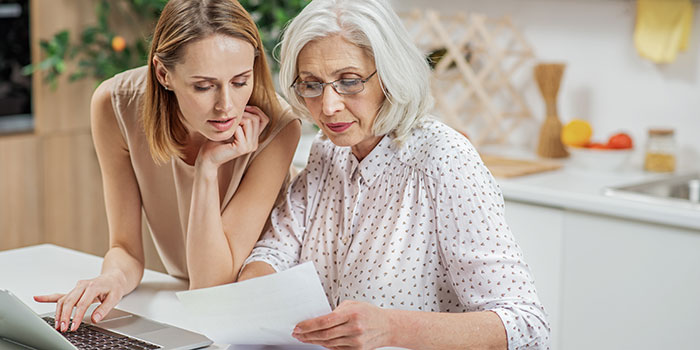 The phone call usually comes in the late afternoon, after naptime.
"Grandpa. Can you hear me? It's your grandson. I'm in trouble. I'm in jail in [foreign country] and I need your help. Can you send bail money?"
They call them "grandparent scams." One grandfather gets these calls so frequently that sometimes he plays along, keeping the scammer on the line for his own afternoon entertainment.
Unfortunately, the grandparent scam is far from a joking matter. The internet is full of horror stories about the elderly being scammed out of their life savings by increasingly tech-savvy con artists. According to a recent Bloomberg story, one financial firm estimates that seniors lose $36 billion per year to fraud. A report in the American Journal of Public Health estimates that 5.4 percent of older adults experience some form of fraud each year.
"We see elderly fraud cases all the time," said Maria Bass, a store manager with Umpqua Bank in East Placerville, CA, where a sizeable percentage of the population is elderly. Maria and her team take a caring, proactive approach to helping their customers in these situations.
"When someone comes into our branch, we never judge. The last thing you want to do is make someone feel worse than they already do. Our goal is to help them recover what we can and ensure it doesn't happen again."
The older we get, the greater our risk for financial fraud
The most obvious reason elder fraud has become more prevalent is because we've aged as a society. In 1950, the average American lifespan was 68. Today, it's 78. The growth of our elderly population, coupled with ever-changing technology that's unfamiliar to seniors, has been a boon to the world's scam artists simply because there are a lot more elderly to target.
To make matters worse, research shows that the older our brains get, the more trustworthy we become. A recent UCLA study found that the elderly are far more trusting than those under 40.
According to the study, "Both the Federal Bureau of Investigation and the Federal Trade Commission have conjectured that older adults' excessive positive responses to other people may underlie their vulnerability."
Know a good scam when you see one
One of the best ways to protect your parents against fraud is to talk to them openly about some of the most popular scams, so they're aware of what's out there. Scammers can hit their targets through phone calls, emails, or even snail mail.
According to Maria, the most popular scams include:
Computer scam:
Someone calls and says your computer has a virus and needs to be fixed: "We can fix it if you'll give us your username and password."


Sweepstakes scam:
"You've already won! Just send us $2,500 to pay the taxes on the winnings and we'll send you a check."


Job scam:
"We're hiring elderly people just like you to be secret shoppers. Just send us a check for $500 to enroll in our program and we'll get you started."


Tax scam:
"You owe the IRS money and they're going to come for your house. Send us a check for this amount and we'll make sure the IRS never takes your house."


Repair scam:
Contractors show up and say they were sent by the city to repair roofs and water pipes, and then ask for payment.


Protect your parents' information
Maria and her team at Umpqua have hosted several fraud-prevention events, where they share information about how anyone—especially seniors—can protect themselves from becoming victims of fraud. Here's what she had to say.
Financial tips
Help seniors monitor their bank accounts and set up automatic billpay, so grandparents know all their bills are already being paid.

Encourage your parents to stay in charge of their own money, or enlist a trusted third party. Do not let caregivers, neighbors, or "friends" open mail or pay bills on their behalf.

Say "no" to any financial advisor who wants you or your parents to put everything in their care.

Take immediate action if you suspect your elders are at risk. Don't let embarrassment or fear stop you from acting.
Email and phone safety tips
Do not open messages from an unknown sender.

If you open a suspicious message, do not click on links or call phone numbers listed in the message.

Delete any emails or text messages that ask you to confirm or provide personal information.

Use a robocall blocker like Nomorobo to screen out phone scammers.
If you or your parents are a victim of fraud:
Place an initial fraud alert with one of the major credit reporting companies.

Request copies of your credit report.

Make an identity theft report.

Consider placing a security freeze on your credit report.

Contact your bank to inform them you've been scammed.
There are a number of outside resources available to help your parents prevent and fight financial exploitation. Check the National Adult Protective Services Association (NAPSA) and MIT's AgeLab for resources. Learn more about staying safe online at any age with these tips.
If your parents bank with Umpqua, they can stay on top of their finances with our online banking tools. Have more questions about banking securely? Feel free to contact us, or stop by an Umpqua Bank near you.
By staying proactive, you'll help your parents protect their assets and ensure their retirement years truly are golden.