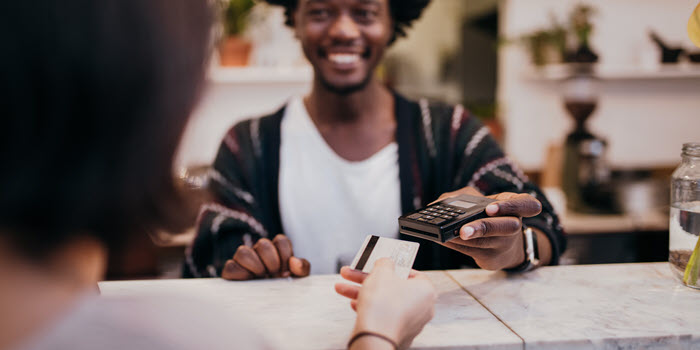 What you need to know about merchant services
As the owner of a business, you need the facts on merchant services. Businesses that accept payment from clients via credit or debit card work with a merchant services provider. So what should you expect from your merchant services provider, and how do you know you have the payment solution that's right for your business?
Here's what business owners need to know about merchant services:
1. Refresher course: The basics on merchant services
Merchant services describes the range of systems and products that allow a business to process debit and credit card transactions.
For example, a typical retail store usually has a cash register or point-of-sale (POS) terminal where customers pay for what they buy. All the parts of transferring money from the customer to the business—the credit card terminal, the software running the register, the banking system—fall under the category of merchant services.
As a business owner, you're likely well aware that modern consumers expect businesses to accept their credit or debit card payments. If you do business online, you'll need a payment gateway provider, which is essentially a merchant services provider that's enabled for ecommerce.
2. Merchant services go beyond payment processing
"Payment processing" is the backbone of merchant services, encompassing the entire process of transferring payment from buyer to seller. This includes the payment device (the POS system), the payment software, the security software which protects the transaction data, the payment record, and the transaction itself.
Merchant services go beyond just debit and credit card transactions, including:
eCommerce: Shopping online has risen steadily in the last decade, and now accounts for nearly 10% of all quarterly retail sales.
Gift cards and rewards programs: One peer-reviewed academic study of rewards programs found that they were a significant factor in raising customer retention, and could even "increase profits by more than 25%." A full-service merchant services provider like Umpqua Bank can help you implement rewards and gift cards to drive your business.
Data security: According to Wired magazine, fears about data security are the number one factor keeping customers from adopting mobile banking. Solid data security is a must-have merchant service.
Equipment leasing: If your business occasionally needs a physical POS system or credit card terminal, look for a merchant services provider that offers equipment leasing. However, if you'll be using the terminal on a regular basis, it's almost always a better value to simply buy one. A good merchant services provider will be able to advise you about what's the best option for your individual circumstances.
3. What's the role of a merchant service provider?
Merchant service providers act as an intermediary to streamline and secure the payment process between businesses and their customers. Money can come from multiple sources, including debit and credit card payments, bank transfers, and online payment gateways, but a business deals with one channel to ultimately receive their money: the merchant service provider.
Merchant service providers are also known as payment services providers (PSPs) and payment processors. Firms who provide this service in the ecommerce world are known as payment gateway providers, since the "payment gateway" refers to the online equivalent of the point-of-sale system.
4. Merchant services isn't one-size-fits-all
Not every payment processing option offers the same value, and your business will have individualized needs. With all the options available, many businesses are attracted to so-called "payment aggregators" which don't usually offer a complete suite of merchant services. For example, platforms like these usually don't offer businesses their own merchant account, nor do they have the service capabilities to offer a truly individualized solution that can grow along with your business.
You can maximize your value by choosing a full-service provider who can offer you expertise and match you with the solutions that are right for your business. Jeff Vandeventer, a VP merchant sales manager at Umpqua Bank, explains, "An experienced sales consultant should be able to make valuable suggestions of products and services that improve the payment processing experience for your clients and your business: save time, lower unnecessary processing cost, increase security, or improve customer loyalty."
5. Which merchant services provider is right for you?
In choosing a merchant service provider, each business has unique needs. Here are some examples:
A restaurant deals with a high volume of sales on a daily basis, with most customers paying with debit and credit cards. They will also have a large staff who receives tips. Since cashflow is a necessity, restaurants need quick and easy access to card transaction deposits.

On the other hand, healthcare-oriented businesses like dentists, physicians, and veterinarians tend to process a lower volume of transactions, though each sale will be larger on average. In addition to a POS system for in-house credit and debit card transactions, medical offices usually need to process online payments, personal checks, and mobile wallet transactions.
As your business grows, a full-service provider of payment systems and merchant services can help you choose the right solutions, so you're always ready for a new customer.
Keep your cash flow flowing with a merchant services solution that's right for your business. Learn more about Umpqua Bank merchant services and cash management here. Got questions? Contact our small business banking team today.