10/17/2017 7:00:00 AM | Business Success
Small Business Now Story: Lou of Surplus Service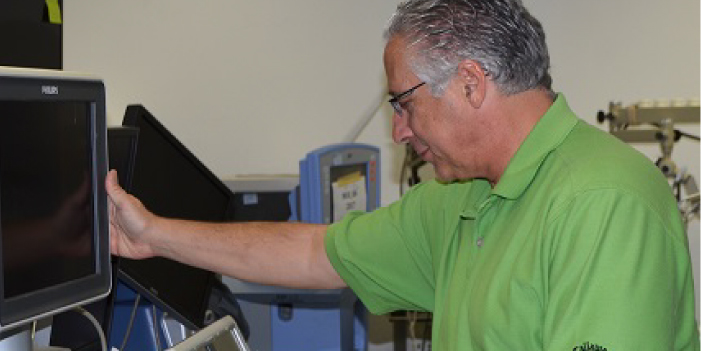 Being a small business is a big deal. But it's the everyday decisions - solving problems, clearing hurdles and seizing opportunities - that truly tell their stories. These are Now Stories.
Husband and wife Lou and Claudia are president and CEO of medical, computer and equipment upcycler, Surplus Service. A certified B Corp., Green Business, finalist for Acterra's "Most Sustainable Business" and Cool California "Business of the Year," the company repairs and refurbishes 85% of the computers and hardware it takes in. The company also partners with Achieve Kids to give work to young adults with learning disabilities like Down syndrome and runs internship programs with San Jose State University, Santa Clara University and many others. Here are some of the everyday decisions that helped them weather an unexpected early issue, and what they're doing right now.
How did you start your business?
We acquired the business in 2011. Both of us had major roles working for large global corporations in equipment and medical services and we saw an opportunity to run what we thought was an established business.
What has been the roughest time for the business and how did you get through?
Well, two weeks after we acquired the business we got a huge surprise. We discovered that our biggest client was owed significant money by prior management. As a result, our biggest contract fell through. We thought we were taking on an established business and we weren't planning to build from scratch. But as an entrepreneur, you deal with it, you fix it and you make it work - because you don't have a choice.
We went through a couple of very difficult years. We had to restructure and make due. We found new client needs in asset management and zero waste reporting for services like consignment, appraisal, equipment pickup and disposal, data wiping and shredding, among others.
We had corporate experience on a much larger scale with lots of resources, which helped us build our company's process, people, products and procedures. But when it's your business, your liability and your dollars, it's a hell of a lot different than when it's somebody else's.
Why the B Corp certification? Why the internships?
The B Corp fit with our core goals and what's important to us from a mission and values perspective. The rest we do because we like to do it and it's good from a business perspective. Besides the work with Achieve Kids and San Jose State, we help Boy Scouts get their Sustainability Merit Badge for Eagle Scout. We're almost stupid about the amount of community outreach we do.
And what are you doing right now?
We also just went off the grid! Our roof needed work and when you're housing things like expensive medical equipment, you don't want the roof to leak. So, we got a GreenStreet loan from Umpqua to put in a white reflective energy-efficient roof, 2 extra inches of insulation and solar panels. Now everything from our lighting and HVAC to charging our forklifts, comes from solar. And the warehouse, which used to swelter in the summer, is much cooler. Plus, our interns are getting hands-on experience completely re-doing our website for better SEO and traffic, and working on an email distribution program. Both of those are the kind of day-to-day improvements that can really help us into the future.