12 tips to help investors weather the financial impact of COVID-19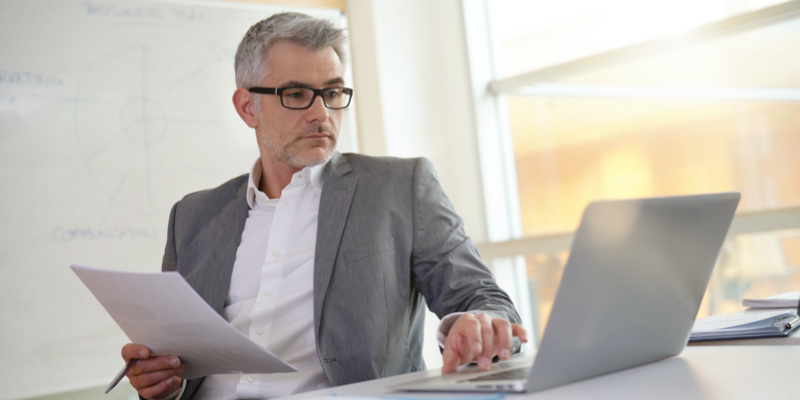 David Budd, SVP Managing Director - Oregon
Over the past several weeks, we've seen the fastest market correction in 70 years. In fact, equity markets have lost about one-third of their value (as of March 20) after reaching all-time highs in February. Amid the overall downward trend, the markets have been incredibly volatile. Eleven of the 15 trading days between March 1 and March 20 saw moves up or down that were greater than 4%.
Major cities are shutting down, schools are closing, and millions of Americans are now practicing social distancing to slow the spread of the coronavirus. If you were skeptical a few weeks ago about the long-term impact of COVID-19, today it's clear that this global pandemic will have lasting effects.
From a humanitarian perspective, I hope we can contain the virus quickly and it doesn't continue to spread and harm more people. From a market and financial planning perspective, there's no point in trying to predict the global economic impact of the current pandemic. Instead, I want to share with you a few of the strategies we're discussing with clients as we all navigate what will likely be a period of continued volatility.
1. Think big picture
Imagine you're the captain of a ship and you're in the middle of a storm. The wind is blowing hard, swells toss your ship, water washes across the deck. Should you attempt to suddenly change course? Should you try to outrun the storm? An experienced captain knows that, in the middle of a storm, you point the ship's bow toward the oncoming waves. If a wave catches the side of your boat, it can cause a lot of damage. You might even sink.
As the "captain" of your financial life and investments (including real estate, business ownership, and marketable securities), it is easy to let fear change your course in the middle of a storm. But that can be costly. Rather than risk your entire ship, it's smarter to be resilient and to make repairs and slight adjustments along the way until the waters calm.
In our conversations with clients, we try to remind them of the bigger picture—the longer-term strategies they developed before the storm and that were designed to help them navigate their financial future.
The spring edition of our quarterly Wealth Planning Newsletter addresses themes around investment biases and emotions.
2. Check in with a trusted advisor
Personal biases can affect our decision-making. With any big decision, I find it helpful to talk to a mentor, a professional, or someone who has experienced what I'm facing before I act so that I don't let fear or greed cloud my vision.
3. Model "what-if" scenarios
Evaluating how the current environment impacts your future can be modeled if you have a baseline financial plan in place. We can help you create your plan or update it with modeling that considers a wide range of what-if scenarios.
4. Consider buying opportunities, but act slowly
We're now in a bear market, which is defined as a drop of 20% or more from a recent high. We're also seeing a lot of market volatility. One strategy you might consider is to divide the cash you have available for investing into 12 portions and invest 1 portion each month into a predefined strategy. This approach is called "dollar cost averaging" and is an easy way to take advantage of the dips while staying disciplined and not overreacting to gains and losses since the recent pattern of buying on dips and being rewarded quickly may not apply this time.
5. Look for unrealized gains and losses
If you have holdings you were wanting to get out of, but were too costly to sell from a tax perspective, now may be a good time to make a move. Additionally, if you have any unrealized losses in your account, turning those into realized losses can help you offset gains down the road.
6. Look at refinancing debt
Interest rates are at or near all-time lows. For our latest rates, please check out our current mortgage rates.
7. Utilize a line of credit
Lines of credit are typically tied to an index such as the U.S. Prime Rate, which has dropped 1.5% this year. Such a low interest rate means that this fast and flexible form of capital is very inexpensive right now.
8. Consider CDs
With Treasury yields so low and unlikely to rise much in the near term, you might consider a certificate of deposit (CD). Take a look at the rate differences (as of 3/23/2020).
9. Evaluate your giving plans
If you're planning on making gifts to reduce your estate tax or to take advantage of the annual exclusion, a decrease in value of 20% or more makes your gift potentially more valuable at this point. However, the opposite is true for charitable gifts. If you were planning on giving stock to your favorite cause, waiting for the markets to recover could be a better strategy.
10. Help may be coming
Statewide shutdowns across the country are forcing business owners to make tough personal and financial decisions. The good news is the federal government is working on legislation that may include increased unemployment benefits, opportunities to restructure debt, and more. If you or your business have been impacted by COVID-19, you may have options. Reach out and we can talk specifics.
11. How will you help others?
If you're in a position to help someone, please do so. Donate to a few nonprofits to get them through these difficult times. If you're a landlord, make sure your tenants are okay and consider taking proactive steps to help ease their anxiety. And don't forget to check in with friends and loved ones. Leaders are calling for "social distancing," but I like to think of it as spatial distancing. We still need to be social. Even simple interactions can make a big difference.
12. Reflect
We're experiencing an event unlike anything we've ever seen in our lifetimes. Times are tough for a lot of people, but this is also an opportunity to appreciate what's most important in our lives. I know I've been thinking a lot about how grateful I am for my family, friends, coworkers, and the community I call home. I hope you're healthy and have the opportunity to focus on what really matters to you.
We're here for you
Social distancing doesn't mean you can't still get great advice and guidance. Your team of experts at Umpqua can help during times like these by:
Helping you stay focused on the big picture.
Providing insight into how current conditions affect your plans by modeling scenarios specific to your situation.
Acting as a sounding board as you consider financial decisions.
Bringing specific ideas and strategies to you based on your unique situation.
Partnering with you to navigate the ever-changing economic and market landscape.
As always, our team is here to support you no matter what the future holds. We appreciate being your partners and welcome the opportunity to continue with you on your journey.
wealthmanagement@umpquabank.com.