Umpqua Quarterly Perspectives Newsletter – Q1 2021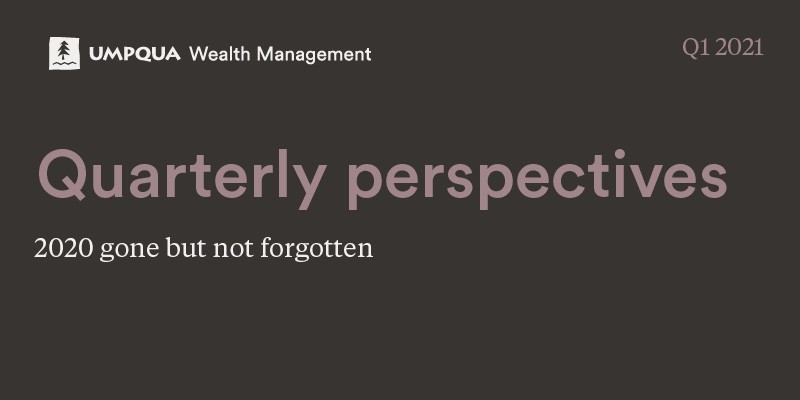 2020 – Gone but Not Forgotten
What a year! 2020 was like no other time in our lives. As if the pandemic wasn't enough, 2020 also brought devastating wildfires across the west, issues of race and policing, an increasing political divide, and a rollercoaster election year. It's important in times like these to evaluate your circumstances and adjust plans accordingly. But in the context of your investments and overall wealth plan, it's imperative to maintain perspective as you evaluate your goals.
Our latest newsletter brings original Umpqua-derived perspectives on the market and the economy as you prepare for the challenges and opportunities 2021 may bring.
A Look at the Year Ahead
As we turn the corner on a new year, it's worth evaluating where we've landed at the end of 2020 and how the major events of the previous year may shape the new year. We'll consider some key data points that help set the stage for 2021:
Stock Market
Taxes
Debt
Economy
Fixed Income
Politics
Uncertainty and Opportunity
A lot is still in play from 2020 as governments, businesses, and investors work to overcome the challenges we faced in an unprecedented year. As the new year unfolds, we'll know more about the impact of another round of stimulus, a broader vaccine rollout, and new legislation from a new administration and Congress, but our research demonstrates the importance of not losing sight of your long-term goals and sticking to the fundamentals of investing.
Cashflow and Diversification Needs in a Low-Interest Environment
The current low-interest environment is creating a challenge for those investors who need to generate necessary income from cash or other low-risk assets.
Typically, there are three variables that influence cashflow:
Interest Rates
Credit Risk
Duration
While exploring options for maintaining your cash flow needs, it's important to remain focused on your long-term goals. Everyone's needs and circumstances are different, but investors should work to protect cash flow without taking on more risk than he or she is comfortable with.
Umpqua Investments Transitions to Steward Partners
We have executed a definitive purchase agreement to sell Umpqua Investments (UI) to Steward Partners. In mid-March, all existing UI clients (unless they opt out) will transition to Steward Partners and will continue to work with their existing financial advisors. Over the next couple of months, you'll learn more about how we are helping ensure a smooth transition for valued clients like you.
We're here for you
Social distancing doesn't mean you can't still get great advice and guidance. Your financial professional at Umpqua Wealth Management can help in times like this by:
Helping you stay focused on the big picture
Bringing specific ideas and strategies to you based on your unique situation
Acting as a sounding board as you consider financial decisions
Partnering with you to navigate the ever-changing economic and market landscape
Providing insight into how current conditions affect your plans by modeling scenarios specific to your situation
Download the UWM Quarterly Perspectives Q1 2021 newsletter
Neither Umpqua Investments nor its employees provide legal or tax advice.
Asset allocation or diversification does not assure a profit or protect against loss.
Investments, investment advisory services and insurance products are offered through Umpqua Investments, Inc., registered broker/dealer and investment adviser, Member FINRA/SIPC. Umpqua Investments, Inc. is an affiliated company of Umpqua Bank. Umpqua Assist® are divisions of Umpqua Investments. Umpqua Wealth Management® and Umpqua Private Bank are divisions of Umpqua Bank.
CMAX 0221-1880395
Securities, managed investments and insurance products are: • NOT A BANK DEPOSIT • NOT FDIC INSURED • NOT INSURED BY ANY FEDERAL GOVERNMENT AGENCY • NOT BANK GUARANTEED • and MAY GO DOWN IN VALUE.