Umpqua Quarterly Perspectives Newsletter - Spring 2020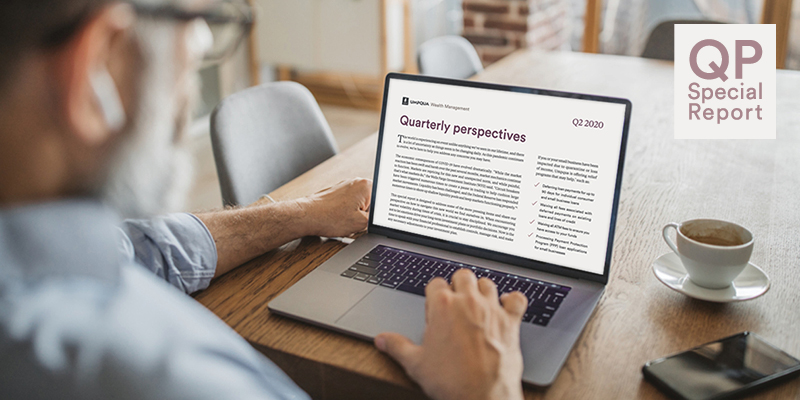 What has been the impact of the COVID-19 pandemic on the financial markets?
The world is experiencing an event unlike anything we've seen in our lifetime, and there is a lot of uncertainty as things seem to be changing daily. As this pandemic continues to evolve, we're here to help you address any concerns you may have. In this issue, we address the challenges and opportunities.
What financial structure should you have to weather the storm?
Most investors should have three buckets of money for short-term, medium-term, and long-term needs. Each bucket has a different risk classification. Periods like the one we are experiencing today highlight the importance of funding a short-term bucket that is not exposed to as much risk (or at least to the same extent medium- and long-term buckets are exposed to risk).
What does "staying invested" actually mean? And how do you do it?
Investors who have held onto their investments have been more successful than those who time the market. The chart to the right shows how timing the market may lead to missing out on higher returns when compared to leaving funds fully invested. Note that if you were to change paths, you have to find the right timing twice – once when you sell, and a second time when you buy back in.
How should you view today's market volatility?
It is important to recognize that short-term volatility in the stock market is typically driven by the emotions of buyers and sellers. Volatility is a natural occurrence of a marketplace and the price investors pay for the return premium of equities.
What is Behavioral Finance and why is it so important to be aware of during COVID-19?
We all have different relationships with money and wealth, and during a downturn or high-stress periods, those relationships can be intensified or even altered. During those periods, we may change our decision-making process to be more emotional rather than rational. Trigger events can produce common emotional reactions called "cognitive behavioral errors and biases."
Where is there opportunity today?
We are encouraged by how well the combination of diversification, discipline, rebalancing, and tax-loss harvesting have served our clients. While we don't know what the near-term future holds, we remain committed to the long-term investing tenets which we believe improve the odds of helping our clients achieve their stated goals.
We're here for you
Social distancing doesn't mean you can't still get great advice and guidance. The financial professionals at Umpqua Wealth Management can help during times like these by:
Helping you stay focused on the big picture.
Bringing specific ideas and strategies to you based on your unique situation.
Acting as a sounding board as you consider financial decisions.
Partnering with you to navigate the ever-changing economic and
market landscape.
Providing insight into how current conditions affect your plans by modeling scenarios specific to your situation.
Download the UWM Quarterly Perspectives Spring 2020 newsletter.