November 03, 2020 | Wealth
Umpqua Wealth Planning Fall Newsletter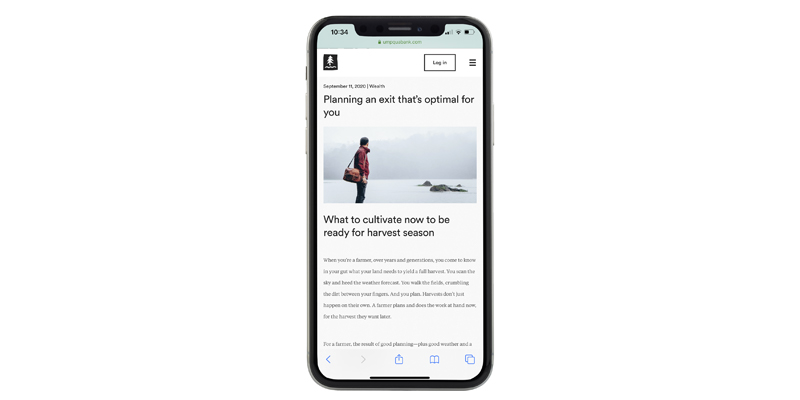 Aligning Your Plan with Purpose; Your Purpose
Let's face it: these are challenging times. Many of us are living very different day-to-day lives than we were before the pandemic. We're working from home, we're schooling from home, and we're attending far fewer outside-the-home events or activities. And we're living with a level of uncertainty – about everything from vaccine timelines to eventual tax changes – that most of us aren't used to.
The Pandemic Offers Us a Time to Reflect
While the pace of our lives may have changed as we're spending more time in our homes, this challenge also presents us with an opportunity to tackle our To-Do lists like never before. Whether it's learning that new hobby you always wanted to try, tackling that list of home projects, or perhaps reviewing your financial plan and legacy goals, now is a time to get things done.
What should your wealth do for you?
What should it provide to your family?
To your community?
At Umpqua Wealth Management, we recognize your success, validate your insights, and deliver meaningful viewpoints and guidance. Want to learn more?
Review your goals to ensure your estate plan aligns properly to those goals
Probably the most important first step in the process is to use this time of reflection to ensure your plans align with your most important goals. For many people, these trying times have shined a light on the most important things in life. Ask yourself what your idea was when you first set your plans in place.
Has anything changed? Perhaps your goals remain intact, but it never hurts to evaluate, if for no other reason, to reaffirm your confidence in your original plan and goals. But perhaps things have changed and you need to realign your plan to new goals. Or perhaps there are new opportunities (some of which are outlined below) that may strengthen your confidence that your plan meets your goals.
Get a formal business valuation
If you're one of Umpqua's business-owner clients, obtaining an accurate appraisal right now is important for many reasons, including but not limited to:
Obtaining a current valuation of your business, as well as an estimate of your business's future growth potential
Updating, confirming, or creating buy-sell agreements amongst partners
Evaluating a potential sale or purchase
Establishing a sale price prior to negotiating with a potential buyer
Preparing for death or incapacity of a partner
Transferring ownership interest to the next generation
Keep documents up-to-date
"Finish Estate Plan" may be an item that's remained on your To-Do list for years and years. So it's not surprising that after you celebrate finally crossing it off your list, you may have overlooked one of the most important aspects of any estate plan: keeping it up-to-date. We recommend reviewing an estate plan at least every five years, but it's important to review it any time you have a family and/or tax change that affects you. Consider reviewing the following elements of your estate plan*:
Review your Power of Attorney and Health Care Proxy
Evaluate your Will
Review your Trust
Funding for your Trust
Update (if necessary) Beneficiary designations
Take advantage of tax opportunities
*For information regarding your personal situation, please consult an estate planning attorney
Better Conversations Await
It's important to start the conversations early so that the future generations can increase their own financial literacy and form healthy behaviors around money. In a future newsletter, we'll take a deeper dive into this topic and share concrete ways in which a Private Wealth Advisor can help you engage the next generation. Start a conversation with one of our Financial Professionals today.
Download the Umpqua Wealth Planning fall 2020 newsletter.