October 15, 2021 | Business Success, Community
Women Leaders Convene to Discuss Economic Opportunity for All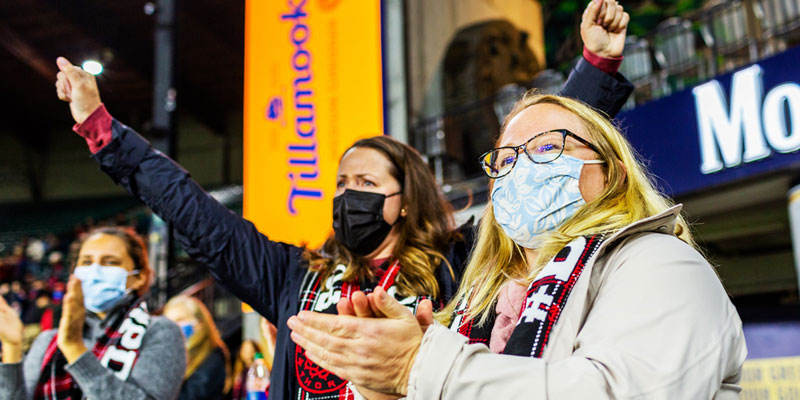 "A lot of times those obstacles, we see as a sign we should stop. When in actuality, it is the green light that you are on the right track and that you should keep going." – Simone Charley
Umpqua Bank hosted a virtual summit for diverse female leaders to discuss their experiences and inspire others on the issues of resilience, recovery, and opportunity.
The virtual panel, held Oct. 13, was moderated by Eve Callahan, Umpqua's EVP and Chief Marketing & Communications Officer.
Panelists included Libra Forde, Chief Operating Officer of Self Enhancement Inc., a Portland, Oregon nonprofit that helps underserved youth; Victoria Lara, founder and CEO of Lara Media Services, the largest Latina-owned advertising firm in the Pacific Northwest; and Christa Stout, Senior Vice President of Innovation and Technology for the Portland Trail Blazers.
Simone Charley of the Portland Thorns also made a guest appearance. She shared the first of many stories of inspiration and insight. In 2018, Simone took a leap of faith and moved across the country to Portland to pursue her dream of becoming a professional soccer player. At first, she did not make the team but did not give up.
"A lot of times we think that the journey to our goals and our dreams … that it's a straight shot," she said. "When in actuality, it's not."
Ultimately, she joined the Thorns in 2019 and went on to a successful soccer career. But she urged others who to learn from her lesson and to keep striving.
"You are going to face obstacles, there are going to be things that stand in your way," she said. "I had to learn that hardship, a lot of times, is the prerequisite to accomplishing your goals … A lot of times those obstacles we see as a sign we should stop, when, in actuality, it is the green light that you should keep going."
It was a theme echoed several times over by the panelists. Business setbacks, personal losses, and more, they highlighted the opportunity to grow and develop wisdom.
Victoria spoke of her experience coming to the U.S. from Mexico. She knew no one, she did not speak the language and came only with the address of someone who might help her find work but was able to build a successful life. She hopes her story serves as an inspiration to others.
Libra replayed a turning point in college when she received an unexpected failing grade that forced her to recognize how she needed to be accountable.
"Self-accountability is the key to me to either being buried by an unsuccessful moment or thriving through it," she said. "You have to do the work within yourself first because everywhere you go as a woman, and you add black to that, no one wants to see you win."
If you have any kind of shine, people are going to want to dim it, she said.
"You have to show up ready to hand out sunglasses to everyone and say, 'Nah this is who I am, take it or leave it.' Whether you receive it or not, I am a successful person. You have to find that confidence and not be defined by anybody else."
Christa shared one lesson from the pandemic was becoming even more comfortable with ambiguity.
"I had to adjust my expectations of myself, and of my teams, to balance empathy with accountability."
The panelists even highlighted the pandemic as an opportunity for reinvention and growth, noting that "crises are opportunities" and that this is an opportunity to start over and create a more equitable system.
They also discussed how they could pave the way for others, including other women and younger peers. That involved such as creating a community, providing help and support for others. And accepting and encouraging others to show up as their "full selves" without apology for age, gender, or even being a parent.
Another imperative, brought up by Victoria, was addressing the gender pay gap. She highlighted data from the World Economic Forum that estimates that due to the impact from COVID-19 it will take roughly 136 years for close the global gender gap.
"We cannot wait 136 years," said Eve. "We have to accelerate that curve dramatically."
It was an astounding sharing of insight, wisdom, and candor. A replay of the event is available to watch now.