August 10, 2018 | Community
We're Your Bank People: Umpqua Bank's New Look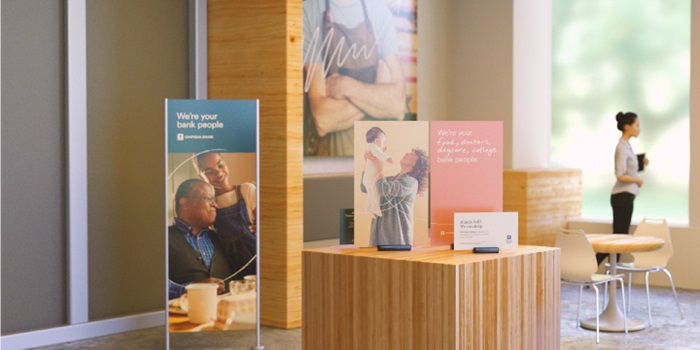 In the past week, you may have noticed that our website got a makeover. As you explore our new site, you'll see more dynamic photos of real people, doing what they do every day in their homes and businesses. You'll start to notice our new look wherever you connect with Umpqua Bank: at our stores, on the web, and in your pocket.
Banking has seen tremendous changes in recent years, and Umpqua is no different. Busy families are demanding smarter tools and accessible, empathetic expertise— and we've heard you loud and clear. You want more from your bank. More convenience, more service, and more support when it comes to keeping your money in harmony with your life.
Putting our people in the spotlight
Umpqua's new look puts people front and center, because to us, that's what banking is all about.
We started in 1953 in Canyonville, Oregon, as a place for a community of loggers to cash their checks. Today, Umpqua is a full-service bank that spans the American West. Just like our founders, we keep people at the center of everything we do, by building relationships and serving needs.
That means being the bank that everyday people turn to when life, business and money collide. Things like taking care of aging parents, while saving for their own retirement. Or opening a second location of their business while managing existing payroll. When big questions like these arise, you need more than convenience. You need real open-minded expertise and support.
That's where we come in. At Umpqua, we've always known that money is much more than spreadsheets and interest rates. It's your goals, your responsibilities, and your freedom. As your bank people, we're here to help you keep it all in balance.
Friendly neighborhood experts
With all these big changes—a modern new look, innovative new technology—you might wonder if we're still your friendly neighborhood bank. The answer is yes, and more.
We're still the bank where your dad can stop by on his morning walk for a free cup of coffee. When you're ready to turn your basement into Dad's new bachelor pad, we're the bank that can advise you on the timing and financing that works for you.
We're still the bank that loves to pamper your dog with attention and a free biscuit. But we're also here to help you lock down details on buying your next house, with the backyard of your dog's dreams.
We're still the bank where your daughter can get a cookie when you visit one of our stores on Fridays. And now that she's starting high school, we're here to help you budget for that summer coding camp she's got her heart set on.
Umpqua Human + Digital: The right tools from your bank people
Here at Umpqua we're innovating and improving our digital tools to make banking more human—not less. To us, digital banking should add value to human interactions, not replace them. We're leveraging technology to be closer to our customers, better understand their needs and support them in their financial lives.
Our new Go-To app connects our customers to real-life, dedicated banking experts right from their mobile devices. With Go-To, you have a trusted advisor who knows your unique situation: your own personal go-to bank person.
To meet your money goals, we realize you need more than a friendly face. You need a trusted confidant who can provide personalized, expert service. From your phone to our stores, we're here for you with empathy, expertise and a real human perspective.
Umpqua. We're your bank people.