Umpqua Investments, Inc.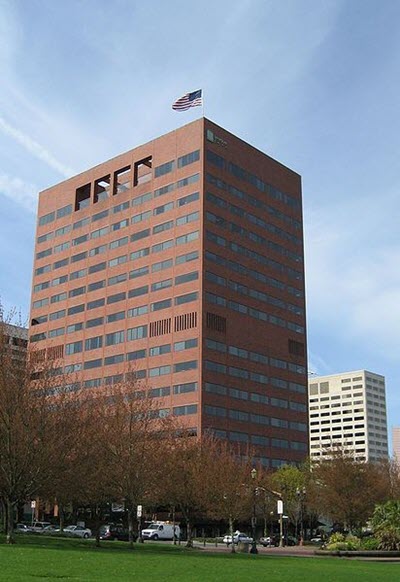 is headquartered in Umpqua Bank Plaza in downtown Portland, Oregon.
Parking is conveniently located beneath Umpqua Plaza on the SW Jefferson Street side of the building, just off of SW Naito Parkway. Please feel free to use the complimentary valet parking service, though please remember to bring your parking ticket with you so that it can be validated.
You'll need to take two separate elevators from the parking garage to reach our offices on the third floor: one to take you to the Lobby Level, and then a second to take you to the Third Floor.
Umpqua Investments Inc.
One SW Columbia Street, Suite 300
Portland, OR 97204
Phone: (503) 226-7000 or (800) 452-1929
Fax: (503) 226-0202
Affiliated Offices
Coos Bay - Bank Store
700 South Broadway
Coos Bay, OR 97420
Phone: 541.267.0389
Fax: 541.267.0948
---
Eugene - Bank Store
675 Oak Street
Eugene, OR 97401
Phone: 541.343.2561
---
Eureka - Bank Store
701 Fifth Street
Eureka, CA 95501
Phone: 707.444.6163
Fax: 707.445.1138
---
Kennewick Bank Store
8121 W. Grandridge Blvd. Suite A
Kennewick, WY 99336
Phone: 509.491.6811
---
Lake Oswego
385 First St., Suite 217
Lake Oswego, OR 97034
Phone: 888.534.5480
Fax: 503.635.1914
---
Medford
1211 E. McAndrews Road, 2nd Floor
Medford, OR 97504
Phone: 800.452.8878 or 541.772.6826
Fax: 541.772.8848
---
Napa Bank Store
1500 Soscol Ave
Napa, California, CA 95404
Phone: 707.396.0851
---
Portland
One SW Columbia St., Suite 300
Portland, OR 97204
Phone: 800.452.1929 or 503.226.7000
Fax: 503.226.0202
---
Seattle
1111 Third Avenue, Suite 2900
Seattle, WA 98109
Phone: 206.749.7292