9/7/2018 10:00:00 PM | Feeling at Home, Money Matters
Should Your Next Home Be a House or a Condo?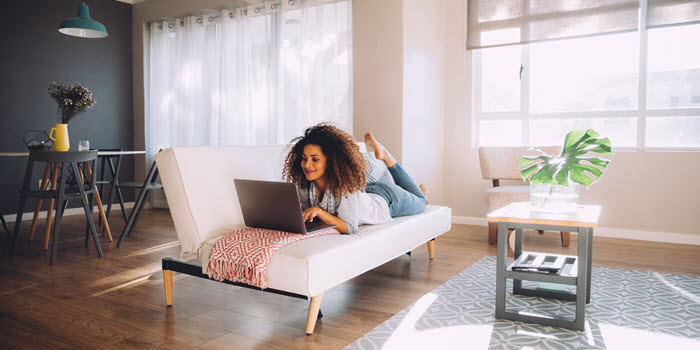 Choosing the right fit for you can depend on many factors
Dr. Eric Finsand is a 55-year-old pastor living in Bellingham, Washington. With his trademark humor and wisdom, members of Finsand's church trust him to help them navigate life's ups and downs. But when it comes to home ownership, he had a few questions of his own, including whether a condo or a house was the right fit for his family.
The father of two college-aged boys, Finsand and his wife decided to sell their old house and try condo living when they became empty nesters.
From a house to a condo—and back again
"For us, it was exciting to think about how little time we'd have to spend on upkeep and maintenance," said Finsand. "Sure, we were worried about the homeowners association fees and privacy but we ended up really enjoying the sense of community condo life offered."
Nearly four years later, Finsand and his wife are now selling that condo and moving back into a house. While they enjoyed their condo years, they're ready for a larger space where the whole family can gather.
Age, lifestyle and affordability: The pros and cons of a condo vs. a house
According to Umpqua Bank senior loan officer Carmen Denson, the decision to buy a condo or a single-family home is all about what works for your life.
"Most condo buyers are usually either young and just getting started, or empty nesters looking to let someone else mow the lawn for a change," said Carmen. "For both groups, price is often the most important factor."
According to the National Association of Realtors, the median price for a single-family home in January of 2018 was $241,700. The median price for a condo was $231,600. Although that's the national average, in many popular communities around the country, the gap is much wider. For example, the median price for a single-family home in the Portland, Oregon, metro area is $407,000. For a condo, it's just $263,500. In Finsand's hometown of Bellingham, Washington, the median home value is $409,200, far out of reach for most new homeowners.
"In many cities around the country, we see that condos are the only thing you can find for under $300,000," said Carmen.
So what's a house hunter (or condo hunter) to do? There are a number of reasons why buying a condo instead of a house may make all the sense in the world.
When a condo is the way to go
Price: Condos cost less. If you're just starting to climb the corporate ladder or you're retired and living on a fixed income, a lower purchase price means a lower initial down payment and lower monthly payments. This puts homeownership within reach for many millennials who don't yet have enough saved for a house near where they work. For retirees, it can mean more money to invest, travel, or pursue their hobbies.

Amenities: Depending on the neighborhood, condo amenities can include rooftop decks, BBQ grills, gyms, swimming pools and tennis courts, right outside your door. This is added value that could save you money if you're currently paying for an expensive fitness center membership.

Location, location, location: Condos are more likely to be in urban areas, where walkability scores are higher and you're closer to restaurants, shopping, entertainment and the office. Owners of single-family homes tend to drive longer distances to work and spend more time commuting.

Maintenance: While homeowners spend lots of their free time mowing the lawn, cleaning the gutters and taking out the trash, condo owners have a homeowners association (HOA) that takes care of all that. If you prefer to spend your free time out and about, a condo might be a better choice.

The social scene: Remember college when you ran into your neighbors at the campus mail room and made plans for the weekend? At its best, condo living can offer the opportunity to make new friends and develop a real sense of community.
When buying a house is the right choice
HOA rules: Who wants to live under someone else's rules? Though some houses are governed by homeowners' associations, condo HOAs tend to be stricter. Some will even tell you how many guests you can have at your parties, and how many cars you can park near your condo. When you own your own house, you have more control.

Monthly assessments: When you factor in the costs of HOA membership and monthly maintenance fees, your condo might not be much cheaper than a house after all. Unlike a mortgage payment, these monthly assessments don't build equity for you. Consider carefully whether the added convenience of condo living is worth what you'll pay in monthly fees.

Special assessments: Let's say a water pipe bursts or a roof leaks. The condo association will usually split this cost among owners, which means you're still on the hook for these kinds of major repairs. So in addition to your own association dues, it's entirely possible you can be hit with a special assessment to cover the cost of unexpected repairs.

Room to grow: Houses tend to be bigger and offer more space to grow into. According to the census, the median size of new houses is 2,467 square feet compared to 1,408 square feet for a condo. If you're close to starting a family, or you're planning on regular visits from your kids and grandkids, you might need that extra space.

Resale: According to Think Real Estate veteran broker Melinda T. Hood, "Resale is always better with a house unless the condo is in a very hot location."
Research before you make an offer
Carmen recommends doing a little old-fashioned detective work for both condo and house hunters.
"I tell my clients all the time to go walk around the area and talk to some of the neighbors before you get locked in," said Carmen. "Be a reporter. Ask questions. If people are unhappy, they're usually willing to talk about it."
If you've already got your eye on a condo, some expert guidance can help you make a sound choice:
"If you're interested in a condo, an Umpqua home loan officer will analyze the resale certificate for you for free," said Carmen. "A Resale Certificate tells you things like how many of the units are owner-occupied vs. rentals, and if the association's finances are in good order. It's like a report card."
Whether you're looking at condos, houses, or a bit of both, talk to an Umpqua home loan officer about financing the right home for you.