October 18, 2018 | Family Life, Money Matters
Feed Your Family the Best—Even on a Budget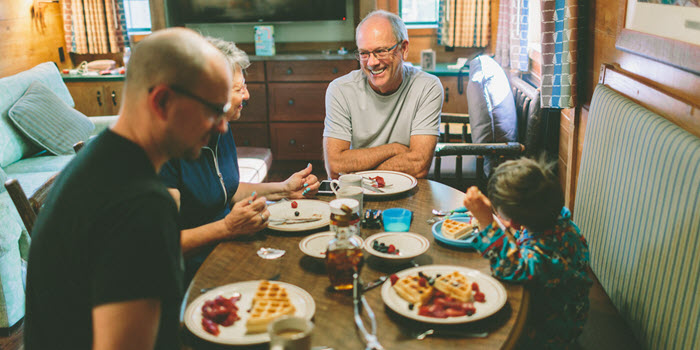 Save money on fresh, healthy food for your family with these tips
Budgeting for your family naturally comes with trade-offs, but no one wants to feel like they're making sacrifices as far as the quality of their food. Fortunately, when it comes to eating well, you can save money without compromising on quality. And with our mobile app, you can check your bank balance from your phone, so you know how much you can spend before you go shopping.
Here are our favorite tips to feed your family the best—without spending the most.
1. Buy in bulk
Some of the most delicious, filling, and healthy foods are also some of the cheapest. If you shop in the bulk section, you'll find plenty of budget-friendly foods.
Legumes, which include beans, chickpeas, lentils, peanuts and soy, are great sources of protein, minerals and fiber. Whole grains like brown rice and quinoa are also good choices for a healthy and inexpensive meal. If you're trying to make a little meat go a long way, lentils, rice, and beans are nutritious and will take on the flavor of whatever you add to them.
Bulk whole foods are also easy to prepare: all it takes is time, a stove and some seasoning. If you want to save time and have dinner ready when you come home, consider investing in a slow cooker. Just throw the ingredients in your slow cooker in the morning, and come home to a fully-cooked meal.
2. Eat seasonally
At the supermarket, most modern families aren't used to shopping for fruits and vegetables that are in season—we just grab whatever's on the shelf that looks good. But eating seasonally used to be the only game in town, and it's still a part of many traditions. Fall is the season for gourds, which is why the pumpkin is the symbol of Halloween. Hot, hearty stews are popular in winter not only because of the temperature, but because boiling is the easiest way to prepare winter veggies and roots (think onions, potatoes, and beets).
If you want to eat well without spending more than you need to, opt for foods that are in season in your area. It saves you money since out-of-season foods are more expensive to grow and ship. It's also better for the planet: your food creates less pollution if doesn't need to grow in a hothouse or travel as far to your kitchen.
This doesn't mean you need to give up your favorite fruits or veggies. With a little planning, you can buy produce that's fresh and freeze some of it to be enjoyed later. Most cities, including Spokane and Chico, have farmers' markets where you can find great deals on local, seasonal produce. Rural areas of California, Idaho, Oregon and Washington are all booming agricultural hubs—check your area for farms that sell their produce directly or host "u-pick" events.
By eating what's in season, you'll be saving money, supporting local farmers, and helping the environment. You might also notice that fresh, in-season fruits and vegetables are tastier, so you're saving money and eating better.
3. Experiment with meat substitutes
Take a look at your grocery receipts, and you'll probably notice that meat is one of the most expensive items on your list. There are easy ways to reduce your meat intake and save a lot of money in the process.
Eggplant, mushrooms, and chopped Greek olives all have meaty textures and blend well, letting you substitute less expensive ingredients while sacrificing little for taste. Legumes like beans and whole grains like quinoa are all high in protein—at a fraction of the cost of meat. The average price of steak, for example, hovers above eight dollars a pound, while a pound of beans averages less than $1.25.
If your family balks at the thought of giving up meat, start small. Try "meatless Mondays," and cook vegetarian dinners just once a week. Try packing tofu or hummus in your lunch instead of a turkey sandwich. As the savings add up, you might find yourself reaching for meat less and less.
4. Pack your lunch
If you have a typical 9-to-5 job, it's easy to fall into a habit of going out for lunch every day. It's a small daily expense, but even $10 a day for lunch can add up to thousands a year. If your kids buy lunch at school, you're spending even more money. One study from last year found that the average American spends about $2,500 a year on dining out.
Bringing your lunch from home doesn't have to be a lot of work. You can cook a week's worth of pasta salad or stew on Sunday and pre-pack it in portable containers. On weekday mornings just grab it from the fridge. Or prepare extra for dinner and take the leftovers to work the following day.
5. Get creative with seasonings
When it comes to eating, you really have a whole world to choose from. So get creative! A small can of chipotle peppers costs between $2 and $3 from a Latin American grocery store, and can give a whole pot of black beans a rich mesquite flavor. If you have an East Asian or Indian grocery store nearby, you can find inexpensive sauces and seasonings that will give new life to your family's staple meals, especially if you're cooking with lentils or cheaper cuts of meat that really soak up flavor.
What you eat and what's in your wallet are both important, but fortunately you don't have to sacrifice one for the other. Making great food on a budget takes a little planning, so make sure your money moves with you. Pick a bank that offers great online and mobile banking tools, so you can keep track of your expenses on-the-go.