May 22, 2021 | Feeling at Home
Is Now the Right Time for a Home Equity Line of Credit (HELOC)? Six Smart Ways To Use One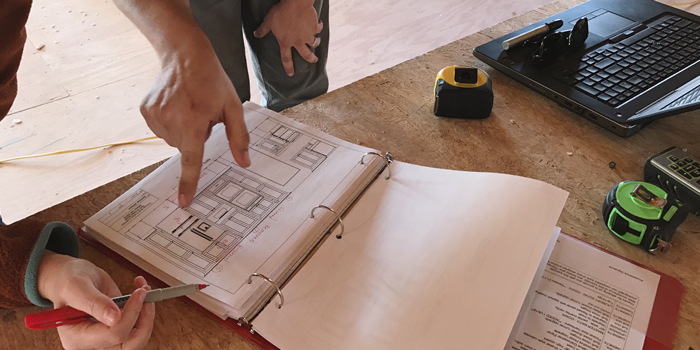 Is your family outgrowing your home, but you can't afford to buy something bigger? Or maybe you're ready to sell, but your house needs some updates before you can put it on the market.
If you're a homeowner looking to make renovations or another big purchase, a home equity line of credit (HELOC) might be a great fit for expanding your budget and maximizing your options.
So what is a HELOC anyway?
Home equity refers to the portion of your house that's "yours," i.e., what your house is worth minus what you still owe on your mortgage. For example, if you bought your house for $300,000, and you've paid $50,000 toward that amount, you have $50,000 worth of equity in your home. Now, let's say you bought the house for $300,000 and have paid $50,000, but the value of your house has increased to $400,000. That means your equity equals $150,000.
A HELOC lets you open a line of credit with your home as collateral, which can give you more freedom to complete projects that require a big up-front investment. Here are some smart ways to use a home equity line of credit.
1. Adjust rooms for your new work-life balance.
Since a home is the biggest asset that most people will ever own, the best ways to spend HELOC money are improvements to increase a home's value. In terms of adding value to the home, many people choose to invest in renovating existing rooms or adding more usable space. The COVID crisis adjusted the way many of us consider our work-life balance, especially for those of us who may not be returning to an office soon. That's led many people to consider working from their home permanently. Why not upgrade your current space or re-imagine it completely?
If you're wondering how to improve the value of your house, many realtors and professional redecorators say that "kitchen is king." A 2016 study by Consumer Reports found that a full one-third of people in their thirties shopping for homes said that an attractive and modern kitchen topped their list of priorities. New flooring, countertops, and appliances are quick ways to update your kitchen. Many homebuyers look for an efficient layout in the kitchen as well, so if you've been thinking that your fridge is too far from the oven, maybe now's the time to do something about it.
After the kitchen, the best rooms to remodel in your house are bathrooms and then bedrooms. In fact, a 2016 study by the online real estate database Zillow found that a mid-range bathroom remodel (meaning about $3,000 of work) is one of the easiest ways to get the most return for your money.
2. Create living space in your house.
You can make your home more attractive to potential buyers by converting an attic into a bedroom or a basement into a cozy living room. These spaces are already there in the home, and adding insulation and lighting is a great way to add as many as hundreds of useable square feet to an average-sized home. This is also a great option if you're staying in the home, but starting to feel cramped.
Ready to make an even bigger change? Consider adding a mother-in-law suite above the garage, or enclosing a porch or courtyard to create even more multi-use space.
3. Give your home's exterior a makeover.
According to a 2018 nationwide survey conducted by Remodeling, a trade publication for the building industry, the highest resale values for home improvements were for steel entry door replacement, garage door replacement, and replacing exterior siding with stone veneer. When it comes to your home's appearance, seeing is believing, and these improvements can be expected to retain most of their value.
4. Add more efficient features to the home.
While these are major renovations, you don't need to undertake a serious remodel in order to increase the value of your home. There are plenty of smaller-scale projects that will increase the value of your home, like replacing windows to improve heat retention or adding fixtures to make the home more accessible for those with disabilities. You can even swap out older appliances for more energy-efficient ones if you're looking to save money in the long-term without doing any remodeling.
In fact, according to Remodeling Magazine's 2017 survey, attic insulation increased property values more than any other improvement, making it a highly attractive choice for homeowners across the country. And if you're not looking to move, you can still look forward to saving money on heat and air conditioning.
5. Pay off debt—if you have a plan in place.
Some homeowners decide to use their HELOC in order to pay off credit card debt, since credit cards and other kinds of loans have higher interest rates. However, a HELOC has a lower interest rate because the house itself is collateral, so the risks are higher.
If you're considering using your HELOC to pay off credit card debt, you should have a long-term plan in place to ensure that you can pay it off.
6. Incorporate a long-term financial strategy.
Since HELOCs tend to have lower interest rates and up-front costs than other credit options, you might be tempted to use yours for a new car, a vacation, or that sweet entertainment system you've had your eye on. These things can do wonders for your quality of life, but a HELOC usually isn't the best way to pay for them.
Remember, with a HELOC, your home is collateral. If something changes and you can't pay it back, you could lose your house. That's why most experts don't recommend using a HELOC to pay for items that don't retain their initial value. Instead, look at projects that offer you some long-term gains, like a more comfortable—or more valuable—living space.
If you're ready to make an investment in your home, a home equity line of credit is a smart way to do it. Umpqua Bank offer HELOCs from $5,000 to $500,000 with flexible payment options and no origination fees, so you can enrich your biggest investment wisely.
Using SmartLock, consider creating a long-term plan to leverage your home.
What is the SmartLock opportunity? It means you can take advantage of fixed monthly principal and interest payments with zero exposure to variable interest rates.
Additional Benefits:
Choice: Lock-in APR and monthly payments for terms up to 10 years
Cost Savings: You can receive our low introductory rate for the first 12 months.
Flexibility: You choose how much and for how long you want to borrow.
Home Equity Line of Credit
Use the equity in your home to help get projects off the ground.
Learn more