December 12, 2018 | Money Matters
This Christmas, Gift Yourself Savings: Holiday Budget Tips to Start the New Year Right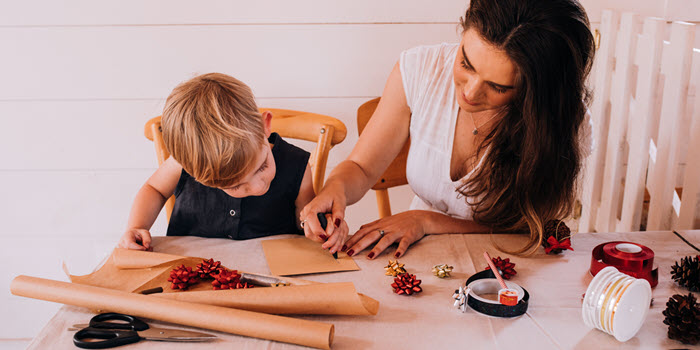 Christmas is around the corner, and if you're entering panic mode about what gifts to get for your friends and family, you're not alone. Smart speakers? Drones? Best-selling books? There are so many great gift options, it's easy to break the budget. And for most families, the holidays also mean more spending on food and travel.
But as we enter a year when economists are predicting slower growth, the one gift you should give yourself to end 2018 is a sensible holiday budget.
According to the National Retail Federation, the average American will spend $1,007 per person this year on food, travel and gifts for friends and family over the holidays. If that sounds a little steep for your holiday spending, it's important to come up with a plan so you won't ring in 2019 with unnecessary debt. We've got a few tips that can help you make this holiday season a bit more affordable.
Holiday budgeting tips
Nothing beats the feeling of being a Secret Santa to someone else—but becoming a Savings Santa for your family has its rewards too.
Set a holiday budget with strict spending limits. The holidays may pull at your heart strings, but it's okay to be unsentimental when it comes to dollars and cents. Look at your checking and savings accounts and figure out exactly how much you can afford to spend on a holiday budget. Once you land on a number, stick to it no matter how many Hatchimals your kids want.
Factor in other holiday expenses. Remember, we're not just talking about budgeting for Christmas and Hanukkah gifts. We're including travel expenses like plane tickets or gas for long holiday road trips, decorations, additional groceries, charitable contributions and any other expenses connected to the season. If you absolutely have to travel, consider booking less expensive flights on Christmas Day or New Year's Day and check out these additional holiday travel tips.
Skip hosting the holiday party. Decorating the house and cooking for family and friends can be a huge expense. If you usually host Thanksgiving and Christmas dinner at your house, consider saving a little money by hosting one or the other this year. Or try hosting a potluck and embracing the minimalist trend with your holiday decorations.
Start saving today for Christmas 2019. If you open a savings account today and start putting a little away every month, you won't have to worry about covering gift and travel expenses next year. Saving $100 every month will give you and your family an extra $1200 to spend on Christmas next year.
Frugal gift-giving tips for this holiday season
This is the fun part. From Fortnite and Fitbits to Shopkins and SodaStreams, there's never been a better time to be a gift giver. Technology makes it ridiculously easy to find the perfect gift for pretty much anyone. All you have to do is make smart purchases and stick to the budget.
Make a list and check it twice. Make a complete list of anyone and everyone you want to receive a gift this year. Then divide the list into "gifts" and "cards only." For the people on the gift list, write down the proposed gift and the cost. If costs get too high, move a few of the gifts people to the "cards only" list. Just don't write about that in the card.
Sign up for email alerts. Many large retailers offer discounts when you sign up for a store's email list. You'll often receive a discount on your first order and receive coupons and advance notice of sales during the holidays. Here's a list of some of the best e-mail lists to sign up for.
Pay in cash. A number of financial gurus believe a cash system is better for budgeting. The holidays can be a particularly opportune time to use cash simply because it's too easy to overspend on gifts when you're charging everything. If you're doing most of your shopping online, shop safely and—even if you're using a credit card—stick to spending money you have instead of going into debt.
Homemade gifts are still the best gifts. The quilt your grandma spent a year piecing together. The gloves your mom made with her own two hands. A small, thoughtful, handmade gift can be more meaningful than an expensive gift that will never be used. After all, the holidays are really about spreading cheer and nothing makes a person happier than a heartfelt gift you spent time and effort making.
During this time of giving, give yourself the gift of savings. Open a savings, money market or CD account now and start the New Year off on the right financial foot. To get started, check out our savings options or visit your nearest Umpqua store to speak to one of our banking experts.