April 03, 2019 | Feeling at Home
The Ultimate Moving Checklist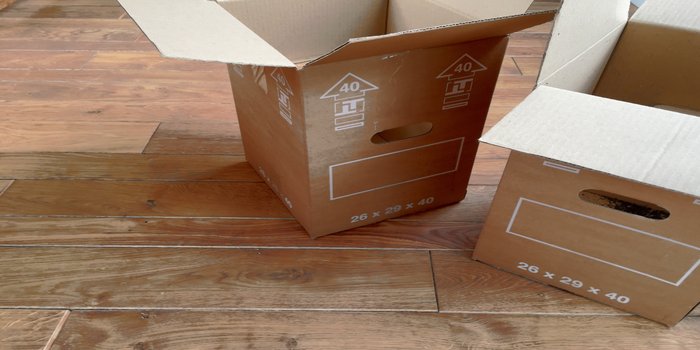 Your complete guide to a stress-free move
By Adam Shell
Packing your antique lamp, blender and silverware in bubble wrap and boxes before moving to a new house probably isn't on your list of favorite things to do. While moving may not cause as much angst as starting a new job or dealing with a divorce, it ranks as one of life's most stressful events. To help make sure your move goes smoothly, we put together this handy "Moving Checklist" that breaks down what needs to get done and when.
There's all that packing, of course, and countless keep-it or purge-it decisions. Add to that housekeeping details like canceling your cable TV service, forwarding your mail, advising your bank to update accounts and telling the landscaper to stop cutting the grass. It's also costly to clear out your home and then move and unpack it later. The average cost for a moving company to move a two- to three-bedroom house ranges from $1,250 for a local job to nearly $5,000 for a long-distance haul, according to Moving.com.
But moving is part of life. You may want a newer, bigger, better house—or maybe a cheaper one. Your growing family might need a third bedroom and a playroom for the kids. Or perhaps a new job or work transfer is why you're packing up to move. Last year more than 31 million people moved to a different residence within the U.S., according to the U.S. Census Bureau.
A successful move, though, requires a well-thought-out plan, just like preparing for retirement or saving for college.
To help you keep your sanity and stay on schedule, here's a "Moving Checklist" to guide you.
Moving day countdown tips
Sticking to a step-by-step timeline could be the difference between living through a heavenly or hellish move.
Start off on the right foot with these moving checklist tips from RealSimple.com:
6 to 8 weeks before you move. Research moving companies and get estimates. Do a house walkthrough and decide what you're packing – or purging. Order moving supplies like packing tape and wardrobe boxes. Create a moving "planner" to keep track of things. Arrange for your kid's academic transcripts to be transferred to a new school. Take measurements at your new house to make sure your king-size bed fits.
4 weeks before you move. Hire a mover and confirm all details in writing. Start packing. Gather up jewelry and important documents and stash them in a "safe" box to take yourself on moving day. Change your address with the post office. Notify banks, brokers, credit card companies and utilities of your impending move. Transfer medical records to new doctors, if necessary. Host a garage sale or estate sale.
2 weeks before you move. Re-confirm the day and time of your move with the moving company. Continue packing and arrange for a day off at work and a babysitter for your young kids on moving day.
1 week before you move. Do a final cleaning and inspection of your house (and don't forget to defrost the fridge). Arrange for a final trash and recycling pickup. Finish packing. Get a cashier's check to pay the mover and cash from the ATM for tips and other essentials. Pack a suitcase with a few days' worth of clothes and toiletries.
Day of the move. Make sure not to leave anything behind and confirm every item that's going on the moving truck. Tell your neighbors you'll miss them.
On moving day, grab your "go-bag," important documents and other essentials you'll need until your things are unpacked at your new home. Do a final walk-thru of your house. Review and sign off on the mover's final list of what's packed and loaded on the truck. Then turn off the lights and leave the keys behind.
Packing tips
When it comes to packing, less is more.
The reason: the less clothes, furniture and old sports gear you take with you, the easier and cheaper your move will be. Once you know you're moving you must quickly adopt a should-it-stay or should-it-go mindset. The first thing to do—even before looking for a moving company—is create a "purge plan."
Purge before you pack. Go room to room, closet to closet and through the attic and decide if you still need all the stuff you've accumulated. Is what you're looking at worth packing? It might make more sense to throw it out, sell it, put it in storage or donate it to charity.
Embrace an anti-clutter, "tiny home" mentality—even if you're moving to a mansion. If something has sentimental value, or is still a part of your everyday life, such as a business suit you still wear to important meetings or a family room couch that's still in style, then keep it. But if it's just clutter, get rid of it. Toss the jeans you haven't worn since the 90s. Pitch the outdated coffee table. Repeat: Get rid of all non-essential stuff. Why? Each item you don't take is one less thing to pack and one less thing to cart to and from the moving truck.
Purging is also the first step toward a clutter-free life. But don't wreck every packing weekend decluttering. Do the grunt work in short bursts. Set aside an hour here and there to empty out a closet or clean out under the sink. If you need help getting rid of things, charities will pick up donated clothes and there are plenty of firms that haul junk away.
When you decide what you're keeping, it's time to get serious about packing. Label boxes to identify the contents and what room it should go to at your new house. Pack non-essentials, such as winter parkas and skis during a spring or summer move, first.
Moving cost-saving tips
A big item to check off your "Moving Checklist" early on is booking a moving company for the date you want. But before you sign anything get quotes from three different movers. Make sure the estimates are in writing and based on an on-site inspection or video footage of your home rather than a phone call. Expect to pay more in peak moving season, which runs April thru September, and on weekends. To save a few bucks, bolt on a weekday.
Most moves cost more than a thousand bucks. A local move of a three-bedroom house, for example, can take eight to nine hours, according to mymovingreviews.com. So, four movers at $25 per hour gets you to $800 to $900 in a hurry. And that doesn't even include any extra packing services, which run an additional $25 to $35 per hour, or extra charges for things like moving a heavy piano or dropping some of your things off at a storage facility.
Costs can add up even more quickly if you're moving far away and are taking lots of stuff that weighs a lot, as you'll be billed more for gas and per-pound charges. You'll also pay more if you're going during the height of the spring and summer moving season, when movers charge more. Other costs, such as money spent on packing supplies, storage units and gas and tips, can also put a dent in your wallet.
So, don't pass up ways to defray costs.
Take advantage of the old saying, "one person's junk is another person's treasure." A month before your departure, host a garage sale or an estate sale. A garage sale is best suited for selling things like lawnmowers, tools, books, CDs, toys and small household items. Hiring an estate sales pro is a better option if you're looking to sell most of your home's furnishings. Antiques, rugs, lamps and dining tables will fetch higher prices in a well-run estate sale. While estate sale organizers take a cut of the profits, they do help empty your home of possessions you might have had to pay to offload.
Purging a home can also unearth a pile of loose change, misplaced $10- and $20-dollar bills or savings bonds you filed away in a shoebox in the closet. These finds can add up. Another money-saving tip: try to time your purge with your town's curbside trash-pickup day in spring and leave all your unwanted junk at the curb for a low fee.
You might also be able to get some moving-related deductions that could lower your tax bill. While the new federal tax law did away with deductions for moving expenses for tax years 2018 through 2025 for non-military taxpayers, the IRS still lets you deduct charitable contributions to qualified organizations if you itemize deductions on Form 1040, Schedule A.
Canceling home services and forwarding mail
About four weeks before you move, start checking off all the small details on your "Moving Checklist." Go online and fill out a change of address form with the U.S. Postal Service. Share your new address with your bank, credit card company, insurers, doctors and magazine subscription services. Dispose of hazardous materials like paint, weed killer and fuel. Schedule the disconnection of utilities, like gas, electric and water. Arrange to have your landline phone, cable TV and security system turned off on moving day. Cancel services like lawn maintenance and cleaning help, and annual contracts for gutter cleaning and pest-control. Check with your insurance agent to make sure coverages will remain in force if, say, you're moving to a new state.
Preparing your family for a new fresh start
Change can be hard on people and moving is as big a disruption as any. So, make sure you take steps to ease your family's transition. Discuss the move with your kids well before the moving truck pulls up. Take them to visit the new house and new town you're moving to. It will help give them a feel for what their new life may look like. And before you drive away from your home for the last time, go next door and say goodbye to your neighbors.
Getting settled after the move
Once you've landed in your new home, and before unpacking, make sure all utilities are working, find the most efficient routes to work and school and pick your new local bank. Look for checking accounts that fit your lifestyle and make a fresh start. Umpqua offers three checking accounts to choose from. Explore them here.
---
Author: Adam Shell
Adam Shell is a freelance writer and editor. For nearly two decades he was a financial writer at USA Today, specializing in coverage of Wall Street, the stock market and personal finance topics.