May 04, 2018 | Business Success
Meet Jeff and Gail, Owners of Back Bistro in Folsom, California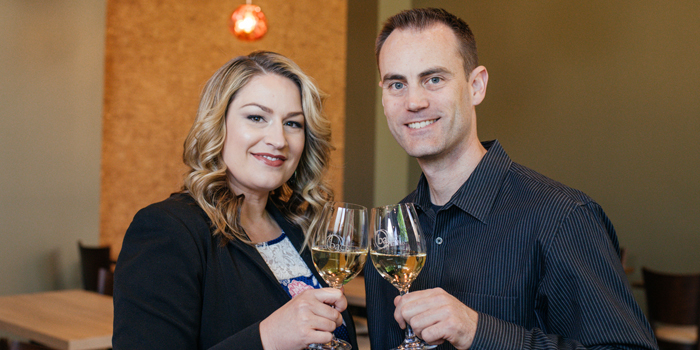 Sometimes the biggest dreams start in the smallest spaces. That was the case for Jeff and his wife Gail, who turned their intimate wine bar into a large thriving restaurant. Like so many business owners, they had a vision for growth, but they also had plenty of everyday challenges to tackle. (Sound familiar?) In today's blog, we're exploring how to strike the perfect balance between big picture and right now.
Humble Beginnings
After years of working in the restaurant industry, Jeff and his wife Gail decided to take the plunge and open their own wine bar. They looked all over the Sacramento area to find a location, finally landing in a tiny strip mall in Folsom. Although the original space was just 875 square feet, the place was bursting with potential.
At first, they started out small. Jeff managed the kitchen and Gail managed the business finances; together they waited table five nights a week. An SBA loan from Umpqua Bank allowed them build out their restaurant and hire a couple of employees. With no budget for advertising, the couple relied heavily on word of mouth to get new customers in the door.
"We were in a spot that had zero visibility, so we really needed people to tell their friends what we're about," said Jeff. There wasn't any room for error: "we're in such a tight-knit community, if you screw up once, everyone knows about it," he laughed.
Soon, the rave reviews started coming in—and with that, Back Bistro was off and running.
Finding Room—and Resources—to Grow
Three years into their journey as a small business, the suite next door became available. Jeff and Gail needed a real estate loan to grab the space, so they turned to Umpqua's Small Business Team again. They helped the couple get the financing they needed to expand, allowing them to almost triple their existing space.
In the years that followed, the couple worked on evolving the business, experimenting with meal specials, hosting wine tasting events, and adding a popular prix fixe menu. "I'm always looking to do things better," said Jeff. To get inspiration, "I watch a lot of cooking shows, read food magazines and of course, I taste a lot of wine."
A Financial Friend in Their Corner
The mile-a-minute pace of the restaurant industry doesn't leave a lot of time for banking. Gail says she appreciates having a financial ally at Umpqua that she can go to for quick answers on the fly. "Andrew is awesome," she said. "He goes above and beyond to help us with our business needs. I really feel like he's on our side."
Just this April, Back Bistro moved once again—this time to an upscale shopping district in downtown Folsom. But they've never forgotten their humble roots or the community that got them where they are today. For Jeff and Gail, Umpqua Bank is an important part of that community.
"They've been great over the years," she said. Everyone, from the associates in the branch, to the loan administrators and even the Assistant Vice President make us feel personally valued. I walk into Umpqua and everyone knows who I am there. At the big banks, we were treated as a number. We love the community feel at our bank," she explained.
Right now, Jeff and Gail are working with Umpqua Business Banking to consolidate their debt, which will allow them to free up some cash flow for future projects. But while they continue to look forward, they're also enjoying daily life at the not-so-little-anymore bistro that they worked so hard to build.
"We have such a great crew right now. And we love making our own decisions based on our experience and not someone else's," said Jeff.