11/1/2018 5:00:00 PM | Business Success
How Paul and Alana Grew Their Retail Business with a Term Loan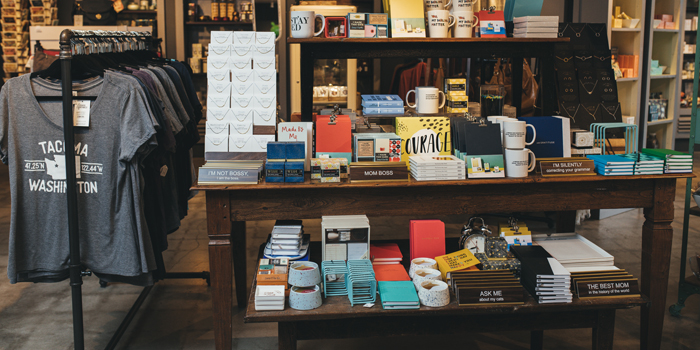 From helping you move to helping you grow
Running a small business is a lot easier when you and your bank share the same values. That's what Paul and Alana learned when they needed financing to expand their retail business.
Paul and his partner, Alana, own two businesses together in the Tacoma area. The first, Compass Rose, offers a thoughtfully curated collection of gift items, paper goods, and home décor. Their second shop, Lapis, sells fine artisan and "alternative bridal" jewelry, along with lifestyle gifts and accessories. For Paul, both stores provide something that you can't put a price tag on—a sense of community.
"I think most business owners enjoy having their own business or else they wouldn't do it," he said. "But the thing I like that you don't hear about as much is the community that I can build with my staff. I feel like I'm building little communities with each store—that's always been really important to me."
As he would come to discover, his bank feels the same way.
Welcome to the neighborhood
Paul's introduction to Umpqua Bank didn't happen at a desk. It happened in a parking lot. He and Alana were getting ready to open Compass Rose and were unloading a 40-foot container of fixtures and inventory that was sitting in the parking lot behind their store. Suddenly, the manager of the local Umpqua Bank showed up from across the street with water, snacks, and extra muscle power.
"She basically brought the whole bank over to help us move in," said Paul. "I was shocked. I've opened other shops in other towns before, but I've never experienced neighbors pitching in and helping out like that before."
That was the beginning of Paul and Umpqua's banking relationship—one that's built on their shared belief that when people pull together as a community, great things can happen.
Overcoming the obstacles
In the years since, Paul and Alana have come to rely on Umpqua for far more than moving assistance. Besides helping out with the day-to-day financial demands that come with running a busy retail shop, Umpqua's Small Business Team has also helped them grow. In fact, when Paul and Alana needed financing to open Lapis, Umpqua was instrumental in helping them get a business term loan.
Paul and Alana were established business owners looking to grow, and a term loan was a great fit for their needs.
"So-called 'brick and mortar' retailers are much maligned these days, but Umpqua recognized how well we were doing," explained Paul. "They were more than happy to open their arms to us and see us expanding in their community."
Stronger together
With both stores growing strong, Paul and Alana are free to focus on what they do best. (They're admitted opposites). Alana tackles the buying and oversees the merchandising and social media, while Paul handles the financial side of things with a little cash management help from his banking friends across the street.
"It's great," he laughed. "The team at Umpqua comes over here to shop, we go over there to bank—it truly is like a little community."
For Paul, that like-minded community spirit is what makes Umpqua such a good fit for his business: "That's one of the strengths of Umpqua Bank and I think it's also a strength of small retailers like us. We're embedded in our communities. That's why we succeed as small retailers, and probably why Umpqua does as well."
If you need financing to grow your established business, a term loan may be the right choice for you, too. Got questions? Contact our small business banking team to learn more.