May 23, 2018 | Business Success
What Every Small Business Owner Should Consider Before Hiring Someone New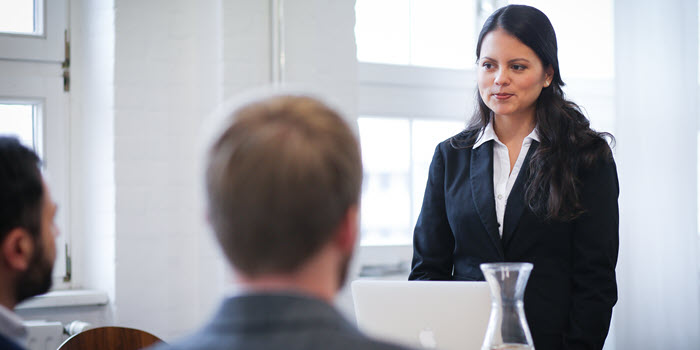 Is it time to hire someone new?
It's one of the toughest questions that business owners face. Hiring too many people too quickly can have grave consequences for a small business, while waiting too long to hire can hurt productivity and morale, and cost you in terms of missed opportunities for growth.
To complicate the issue, it's not just a question of when to hire more employees, but who you choose to hire. In small to medium-sized businesses, each team member has a critical and multi-faceted role in keeping the company growing. So how does a business owner determine it's time to bring in new talent? More importantly, how do you make sure you're bringing in the right person for the job?
We took these questions to two human resources experts from Paychex, a leading provider of payroll and HR solutions tailored to businesses of all sizes. Whether you're thinking of hiring your first, tenth, or fiftieth employee, they agree that there are some factors you should always consider before you post that job opening. These tips will help you evaluate when it's time to grow and what exactly you need from your next employee—while avoiding some common pitfalls that hurt growing businesses.
Run the numbers: Cost-per-hire, ROI, and your business plan.
Your first step when evaluating how to grow your team of employees should be to look at your business plan. According to Matt Keup, HR Services Area Manager at Paychex, your business plan "should be a living document that accounts for all aspects of your business.
"Adding staff is often one of the largest costs for small businesses. It's crucial for the business owner to consider whether they have the funds available to compensate the additional employee, as well as what their expected return-on-investment (ROI) will be from the investment in an employee."
Keup also stresses that these calculations should be based on "honesty, not hope," and that business owners should strive to make these numbers as concrete as possible.
Your cost-per-hire should include more than just a new employee's salary and benefits. You should also include any costs associated with advertising the job opening, recruiting candidates (or using third-party recruiters), running background checks, and complying with government regulations on employers. In addition, you should factor in the time you or your current team will spend interviewing, onboarding, and training new hires.
DON'T forget to factor in the costs of not hiring someone new.
Against your cost-per-hire, you should also calculate the cost to your business if you don't hire anyone. Short-staffing your business can cost you in productivity, overtime costs, lower morale and high turnover. Without adequate staff, the value proposition you offer to your customers could suffer. Rob Sanders, an HR consultant for Paychex, explains, "Impact on clients should be the first consideration. If the product or service the business owner is providing is negatively impacted due to improper staffing or understaffing, this could indicate that it's time to hire."
DON'T let understaffing distract you from your duties as the business owner.
Each HR expert we interviewed stressed that business owners should properly value their own time when they factor the costs of understaffing. An entrepreneur's first responsibility is "to focus on the higher level goals of the business," says Matt Keup. As your company grows, this means you'll have to increasingly entrust employees with day-to-day responsibilities. Delegating tasks can be tough for driven entrepreneurs, but it's imperative to growing your business sustainably.
Keup also stresses the importance of appraising your own strengths and weaknesses, to determine how your time should be spent. Very few entrepreneurs are equally adept at all the aspects of running a business: production, sales, accounting, logistics, marketing, etc. Says Keup, "Adding a new person with a specialized skill set in a certain area can make your business more productive and efficient."
Explore your options: Is hiring someone new the best way to reach your business objectives?
Before you hire anyone new, Rob Sanders advises evaluating and optimizing your processes: "More efficient client management software; distribution or warehousing improvements; a better shipping partner; improved telephone system…there could be an infinite number of business process improvements an owner should investigate" before bringing on new staff.
Improvements in these areas can save your business money by increasing your existing staff's efficiency, and you might find that these improvements will enable you to meet your business goals without hiring new staff.
What's more, "it won't matter if you hire 2 or 20 more employees, if the tools and resources the employees use are deficient," explains Sanders. To maximize the value of new hires, optimize your business process early on so your employees can do their best work.
DON'T "panic hire."
So, you've run the numbers and determined that a new hire really is the best way to meet your business goals. Now comes the hard part: finding the right person for the job. If you haven't done so yet, now is a good time to examine and improve your hiring process.
Start by making your job description as specific and thorough as possible. For businesses with fewer employees, it's even more important that each person plays a clear and integral role in the company.
With that in mind, hold out for a candidate who will be an ideal, long-term fit for the company. Sanders explains, "So many businesses, especially small-to-medium-size businesses, do not strategically plan for hiring and end up in what I call a 'panic hire' situation. When this occurs, the hiring manager tends to short-change the hiring considerations that impact long-term fit and retention."
Those considerations, says Sanders, go beyond skills and experience. A strong long-term hire should be the right "cultural fit" for the company. He suggests that business owners identify the "guiding value principles" of the organization—for example: trust, creativity, innovation, or personal responsibility. Employees who align with their employers on key values like these are more likely to become invaluable, long-term assets to the business.
In the end, the do's and don'ts of staffing your small business can be boiled down to the idea of sustainable growth: not too fast, not too slow. Partnering with a skilled Small Business Relationship Banker can help you get a clear picture of your business finances, so you can better evaluate your staffing needs. With the right banking partner, you can create more opportunities for the kind of long-term sustainable growth that will keep your business booming.