Self-Enroll in Business Online Banking
To enroll in Umpqua Bank Business Online Banking you'll need to fill out the Business Online Banking Self-Enrollment form.
Important: Don't use the enrollment form to add new accounts or services to your existing Business Online Banking access. If you wish to add new accounts or services, please submit a secure bank mail message from within Business Online Banking or contact your local Umpqua Bank store.
Important notes when filling in the forms: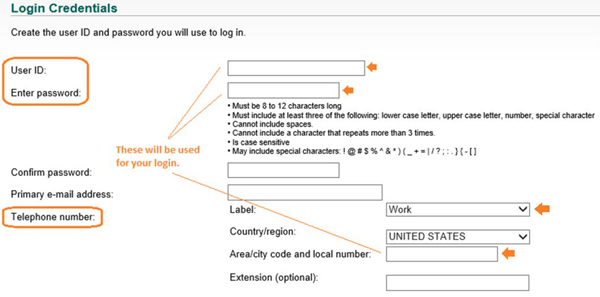 Optional fields on the enrollment form will be labeled as "optional".
The User ID and password you create will be used to sign-on.
In the "Telephone number" section, you must select a "Label" from the drop-down menu.
The telephone number you enter on the login credential page will be used at sign-on. It needs to match a telephone number you provided when opening your account(s) and be on file with Umpqua.
There's a place to add a telephone number when filling out the "Company Information" for your user profile, this telephone number is NOT used when signing on.
Double-check your Tax ID number and account number for accuracy.
Don't check the "Multiple users – opt out" check box if you want to give additional users access to Business Online Banking.
About the "Enrollment – Confirmation" page:

Make note of the Company ID on the "Enrollment – Confirmation" page. It will be used at sign-on.
Business Online Banking performs complex device profiling at each sign-on. At first sign-on, you will be required to enter a one-time security code that will be delivered to the telephone number you enter in the field.