March 26, 2018 | Money Matters
How Luis Saved $230 on a Last-Minute Vacation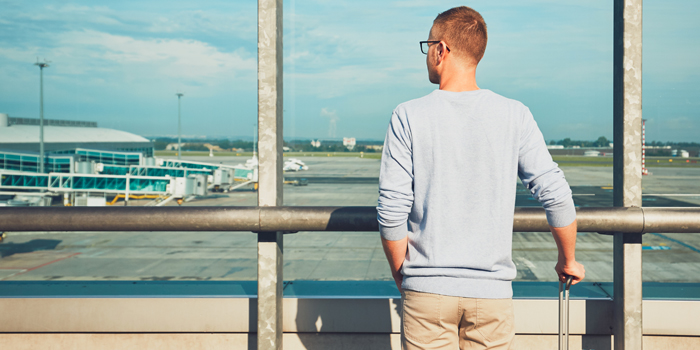 Sometimes amazing travel opportunities pop up out of nowhere or you just need to get away from it all—like today, not six months from now. For the best deals, it's ideal to plan ahead for vacations, but life doesn't always work that way. There are times when you need to stretch your dollars to the max to make a last-minute adventure happen.
Take Luis from Portland, Oregon. He lucked out and got a free ticket to a sold-out rare book fair in San Francisco two weeks before the event. As a freelancer, he keeps a pretty tight budget and had to find flights and accommodations on the cheap to make it all work. He ended up saving $230 and here's how he did it.
The Flight: Shop around and stay flexible for the best deals.
The first place Luis turned to for help was Google Flights, and for good reason. You can fine-tune your search in many ways like adding nearby airports, selecting round-trip, one-way or multiple cities (if you want a fun stop-over), and much more. With the fare calendar, Luis was able to quickly see which days offered the cheapest prices. He ended up saving $70 by traveling Wednesday to Saturday, as opposed to Thursday to Monday. And by flying out of Oakland on his return flight, he saved an additional $40. That's a total of $110 on his flight alone.
If you have even more flexibility than Luis, you can always make your flight even cheaper by pushing your trip out a week to get a better price, or by choosing less desirable times to fly, like early morning or red-eye flights. And if you're really adventurous or up for anything, check out Skyscanner – they serve up amazing flight deals to exciting destinations across the globe, based on your budget, timeframe and interests.
For those trips that allow for more advance planning, apps like Hopper will watch your dates and let you know when you should buy and when you should wait for prices to drop. And it doesn't hurt to get on your favorite airlines' email lists so you'll be the first to know about flash sales.
The Place to Stay: Check bed and breakfasts and last-minute hotel deals.
Luis knew he needed to stay in the city close to the book fare, but hotel prices can be astronomical in SF. Airbnb is a great place to search for incredible homes and spare rooms based on your budget. Luis found a host with great reviews renting out a bedroom for $100 on weeknights and $120 on weekend nights. He snagged the room for two nights and then opted to stay with a friend in Oakland on Friday night, saving him $120, plus saving hundreds of dollars by not staying at a hotel.
Looking to get away ASAP? We've also got you covered on last-minute hotel deals that will turn your vacation up to 11. HotelTonight works closely with the best hotels and offers unsold rooms at an extreme discount. Travelers not only rave about their clean interface and user-friendliness, but have saved up to 60% off spontaneous stays.
You can always go old-school and pick up the phone to do some good ol' fashioned haggling with hotels. According to Consumer Reports, this method is still surprisingly effective in scoring a lower rate or a room upgrade.
The Budget: A little planning ahead goes a long way.
Luis ended up saving $230 by taking a little extra time to weigh all of his options. Every trick he used, he was able to search based on his budget. Knowing how much you can spend on a getaway before you even begin your search is key. Determine how much you can reasonably spend without wrecking your savings or racking up credit card debt, then go from there.
Setting up a dedicated savings account for last-minute travel is always a smart idea, especially if you travel often. That way you can stow away extra cash for the next time you want to get away from it all. Then, once you have a budget and the savings to back it up, you can easily plan a vacation within your means.
Your Getaway: Access your money from wherever.
Not all getaways are created equal. And they don't have to be– as long as you're truly enjoying your (much-needed) time off. So, whether you're taking a quick road trip down the West Coast or escaping to a tropical adventure in Hawaii, last-minute getaways don't have to be last resort. By tapping into these quick, budget-friendly tips and tricks, you're sure to score deals that save you big so you can focus on what really matters– the fun stuff.
When you are ready to travel, make sure your checking account is as flexible as you are. With an Access Checking account, you can receive four ATM refunds per month– so when you're on-the-go and find yourself in an unfamiliar place, you can visit any ATM, without worrying about fees.