October 31, 2018 | Business Success
What Does Your Business Vehicle Say About You?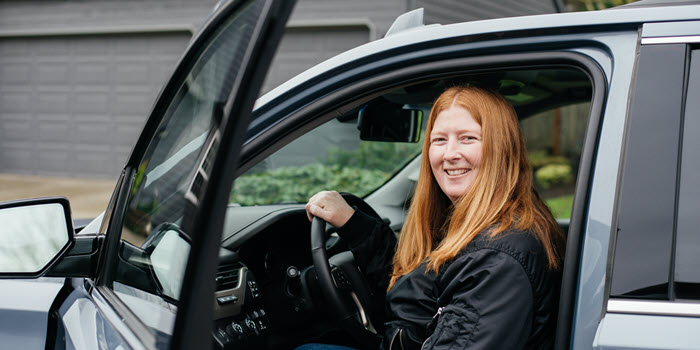 Five tips on branding your vehicle to increase visibility and impact
You need a vehicle to do business. Branding your car, truck or van can make it an even more valuable business asset. Here's how your business vehicle can do double-duty as a marketing tool, so you can increase your visibility and your impact.
Amplify your image
Your vehicle represents your business everywhere you go. Yours will serve you best if it establishes confidence and trust, while making your expertise evident. A realtor selling multi-million-dollar homes, for example, might want to swap the soccer-mom minivan for a luxury car. A business offering solar power solutions could communicate its environmental focus with a hybrid or electric car. A landscape design firm specializing in native plants could showcase its work by creating a rooftop garden on its fleet of trucks.
Make your vehicle your megaphone
Business signage on your vehicle lets you mobilize your marketing. Consider covering part or all of your vehicle with an attractive logo, tag line, business name, phone number and URL. This approach increases your visibility and your authority in your community—for a minimal cost investment. The two most popular ways to brand your vehicle are:
Vinyl wraps: Your graphics are printed onto vinyl film, which is then stretched around your vehicle. Wraps typically last a number of years and can be peeled off at any time. Costs can run from $300 to $3,000, depending on vehicle size, type, and how much of it you wrap.

Magnetic car signs: Less expensive (typically $40 plus shipping) and less professional looking than vinyl wraps, magnetic signs are also more flexible: they can be easily removed for personal use of your vehicle.
Drive it, and they will come
People do business with people they know. The more familiar your business is, the more likely customers will choose you. Simply driving your branded vehicle to and from work will radically increase your visibility. A single wrap can generate anywhere from 30,000 to 80,000 views per day, per vehicle, depending on where it's driven.
Serving even one customer with a branded vehicle can attract many more. When a neighborhood besieged by ants sees a pest control van in front of someone's house, additional requests for service are likely to spread faster than anthills.
You can also increase the odds of being seen by your target customers by parking in the neighborhoods where they live, work, shop, and play. You could bring your mobile pet grooming van to a busy pet store, for example. Or park your branded truck near home and garden supply stores to advertise your landscape contracting business.
Treat everyone on the road like your customer
When your business name is associated with every move you make on the road, it's important that your driving choices also express the spirit and values of your business. Drive like you want every customer to feel, and if your employees drive your business vehicle, make sure they're following the rules of the road as well. Be polite, obey the speed limit, and keep your attention on the road at all times. You should also check with your local DMV to see if your state requires that branded vehicles have any special registration requirements.
Measure your return on investment, adapt and evolve
Want to know how your vehicle messaging is contributing to your marketing efforts? Here's how you can track ROI:
Share a unique phone number on your car or truck—so it's easy to know which customers saw you on the road.

Advertise a special discount or deal that's available only on your vehicle.

Promote a unique, easy-to-remember URL and landing page on your vehicle only.

Track the calls, offer responses, and online clicks that were generated from your vehicle to understand the impact of your mobile marketing. Then, refine your strategy from there.
Get more from your small business vehicle with a loan from Umpqua Bank
Are you shopping for a car, truck or van for your business? Or are you upgrading your vehicle to reflect your business values or expertise?
Umpqua Bank can help. We offer auto loans to help businesses like yours finance new and used vehicles. Learn more about Umpqua Bank business auto loans, or contact our small business team today.