April 09, 2021 | Community
The Virtues of Virtual Volunteering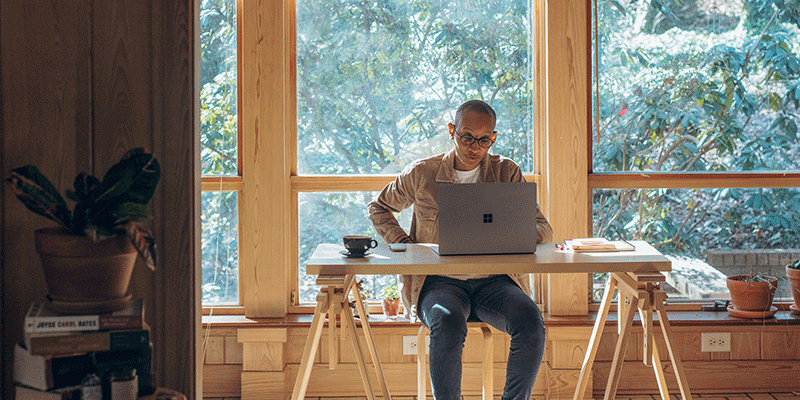 How to spring into action (virtually) this National Volunteer Month.
April is National Volunteer Month—an ideal time to renew and refresh a commitment to volunteering, especially virtual volunteering.
Whether you're an individual or a business, join Umpqua Bank as we Spring into Action this April during National Volunteer Month.
Some examples of virtual volunteering include hosting Zoom-based mock interviews for jobseekers, facilitating youth financial education, making nonprofit fundraiser phone calls, remotely attending nonprofit committee or board meetings, and more.
"Spring, especially this year, is a time of renewal that can spark both community-care and self-care," said Umpqua Bank's Caitlin Back, VP, Community Development Officer. "For us at Umpqua Bank, it's an important time to come together in renewed support of our communities, continuing to foster a culture of service that elevates our associates' sense of purpose and meaning."
The positive impacts of volunteering, including virtual volunteering, extend beyond communities to one's own mental and physical health. Volunteering is found to reduce stress, improve bonding with others, and even extend lifetimes, according to the Longitudinal Study of Aging.
Umpqua Bank is in the 18th year of our Connect Volunteer Program through which associates receive 40 hours of paid volunteer time annually, resulting in more than 550,000 to date. In addition, our internal Community Action Hub serves as a resource to find virtual volunteer opportunities available across our five-state footprint. These include local Oregon and Washington organizations like the Children's Book Bank, Portland Rescue Mission, Hands on Greater Portland of the United Way of the Willamette Valley, United Way of King County, and Serve Washington's Get Connected statewide platform connecting volunteers and organizations. Many additional, vetted, virtual volunteer resources are provided below.
Follow us on social media @UmpquaBank #VirtualVolunteer #SpringIntoAction, and learn more about Umpqua Bank's commitment to community at www.UmpquaBank.com/community.
Search for a Virtual Volunteer Opportunity 
The following organizations are just a few of those that provide a diverse range of virtual volunteer opportunities. Many are skills-based for volunteers to apply their professional expertise and experience to community needs.