October 03, 2018 | Business Success
Alicia Wuebker: Small Business Relationship Banker, Sacramento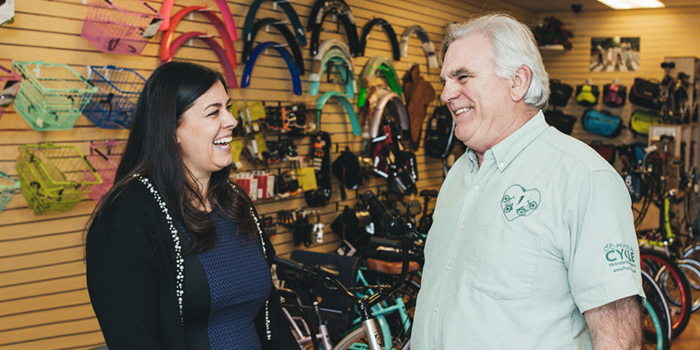 Adding a human touch to small business client success
Alicia Wuebker is passionate about sports, business and relationships. To succeed in all three, Alicia says, you've got to have dedication, humility and perseverance. When she's not helping her clients work through cash flow issues or figuring out a loan scenario, you'll likely find her at a Kings' basketball game.
"I've got three boys, so sports are always going to be high on my list," she says. "I set a goal to see the Kings play in all 30 NBA arenas, and I'm up to nine!"
When the NBA schedule comes out in August, Alicia and her youngest son plan their next trip, matching games with school holidays so they can support the team in person.
Alicia's competitive spirit bodes well for her Umpqua clients who include attorneys, real estate executives and a variety of other small-business owners.
Behind the scenes
So how does Alicia help her clients gain a competitive advantage? She shares three main ways she keeps her clients' businesses moving in the right direction:
Annual reviews: Too often, clients file their yearly accounts without conducting an annual review. Alicia believes a lot can be learned from this information, such as whether the business needs to reduce debt, or invest in new infrastructure.

Streamline, streamline, streamline: Alicia helps streamline bank processes, allowing her clients to "bank faster" and spend less time on administration. During meetings, she's not afraid to "get the laptop out and collaborate" to right the ship if it needs righting.

Fit for a king: If a client has a new baby, Alicia immediately sends a Kings baby outfit to indoctrinate the child as soon as possible.
Collaboration is key
In sports, the coaches who truly get it never take all the credit. They're happy to collaborate with others because they know new ideas can come from anywhere. Alicia loves to collaborate. She's not looking for accolades or pats on the back. She's looking to solve problems, not to receive accolades or pats on the back. For example, a potential new small-business customer was experiencing a short-term cash squeeze. Alicia sat down with the owner to think about how they could solve it. She quickly realized that they could use the business's vans (all 22 of them) as collateral for a loan. Boom! Cash flow issues solved.
"For some reason, their current bank hadn't thought of that. The business is thriving, and the loan has been repaid. And now they're a happy Umpqua Bank customer!"
Another example: A customer bought a second business that had an existing tow truck contract. The owner couldn't manage two businesses at the same time. Alicia sat down with the owner and suggested automating part of the tow truck business.
"The owner now manages the second business by tracking every vehicle from their mobile phone," she says. "It's working really well."
Small business startup advice
For new startups, Alicia offers three tips:
Get an accountant: Hire a professional to set up your books properly using a well-established accounting software and assess what the business will need to do to be profitable.

Find a mentor: Find a business mentor, ideally someone with experience in your industry, and ask for his or her to offer advice on your business plan. Umpqua has a free business plan template to help you get started.

Get the word out: Invest in a marketing budget. Don't be afraid to use the training offered at your local chamber of commerce, the Small Business Administration or the Capital Region Small Business Development Center.
Building better client outcomes, together
Alicia considers herself a partner in her clients' businesses. As such, she takes the time to visit all her customers face-to-face to better understand their needs. From a practical perspective, she recommends that her clients initially focus on improving cash flow.
"You're unlikely to go out of business if you never run out of cash," she says. "If you can, try and pay your bills later in the billing cycle. Many businesses don't know they can use credit cards for their suppliers, giving you longer to pay and the bonus of cash back benefits."
While she believes digital represents the present and the future of banking, she's not afraid to roll up her sleeves and dig into an old-fashioned spreadsheet printout if that's what it takes to solve a client's issue.
"I want my clients to know that if anything goes wrong, they can call me anytime," Alicia says. "That's what being their partner is all about."
If your business is ready to grow, we can help you finance the next steps. Whether you're looking to expand your business, or streamline your day-to-day responsibilities, contact our small business team to learn more.