8/1/2018 4:00:00 PM | Business Success
Hire the Best: Small Business Recruiting Tips to Attract Top Talent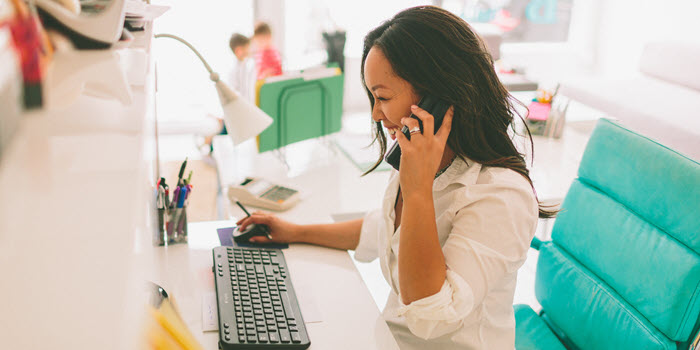 For small businesses, survival depends on attracting and keeping top talent. Hiring a new employee is a huge investment for a small business owner, so they've got to be a great fit. But how do you compete with the beefy salaries, benefits and bonuses offered by big companies? It's easier than you think—but you'll have to get creative. To score quality new hires that will help you grow, you first need to zero in on the benefits they value most and the unique advantages you can provide.
To gather insight, we spoke with two HR experts from Paychex. Here are their insider tips on the incentives and benefits you can offer to attract the best workers within your business budget.
Tout the benefits of small business employers
Your small-to-medium business may not have the resources of a larger firm, but you can stand out by showcasing a few distinct advantages over the big guys.
Small and new businesses are typically more agile and less structured than larger firms. Employees can customize their work environment, play many roles and share in company decisions. That experience allows them to quickly develop new skills and advance their career.
"There are personality types out there that naturally prefer a smaller workplace environment," says Paychex HR Services Area Manager Matt Keup. These prospective employees thrive in flat organizational structures, where they have more opportunities to innovate. Paychex HR consultant Rob Sanders lists some specific selling points that smaller, less bureaucratic employers should highlight:
Greater autonomy and scheduling flexibility

Deeper and quicker expansion of skills and responsibilities

More opportunities for leadership
Make it clear that your company allows room for growth, encourages employee autonomy, and will provide opportunities to expand their role and take on new challenges. These are benefits motivated employees want, that many large firms are too rigid to provide.
Promote your small-business culture
Big businesses are often perceived as stodgy and impersonal, and there can be some truth to this image. To function and grow at scale, large companies rely on order and a strict hierarchy of decision-makers.
Startups and small businesses, on the other hand, can be the sort of personable and intimate environments that ambitious, self-motivated employees prize. According to Sanders, "closer-knit relationships" and the "deeper impact of the particular role on organizational success" are two of the strongest hiring advantages that small-to-medium sized businesses have over larger ones.
To appeal to the best talent, highlight the unique cultural appeal of your small business. Let prospective hires know their voice will matter and add value to the company.
Get creative with incentives
Appealing to top talent as a small business takes a creative approach to benefits and incentives. One low-cost strategy is to recruit employees who want the flexibility to work from home. In fact, a recent Stanford study indicates that working from home boosts productivity, and even saves money for employers. Integrating work-from-home options into your business structure is also a gesture of mutual trust that demonstrates respect for your workers, reinforcing a corporate culture where workers feel invested in the business's success.
Want to hire the best millennials? Chances are, they're stressed by their student loan debt—and the struggle to find jobs that help pay it off. One recent survey even found that members of this age group ranked paying off student loans as their most meaningful achievement. Since this is a priority for so many highly competitive employees today, some companies have attracted top talent by offering student loan assistance as a benefit. This is the sort of creative thinking that will make a difference for small-to-medium businesses looking to hire and keep the best people.
Growing your workforce? Talk to your bank people
Finding great employees can be tricky. But finding a great bank doesn't have to be. With solutions in place to manage your payroll and cashflow, you can focus on what makes your business special. Contact a Small Business Relationship Banker today to help you manage your growing business.