August 24, 2020 | Money Matters, Wealth
An estate plan as digitally savvy as you are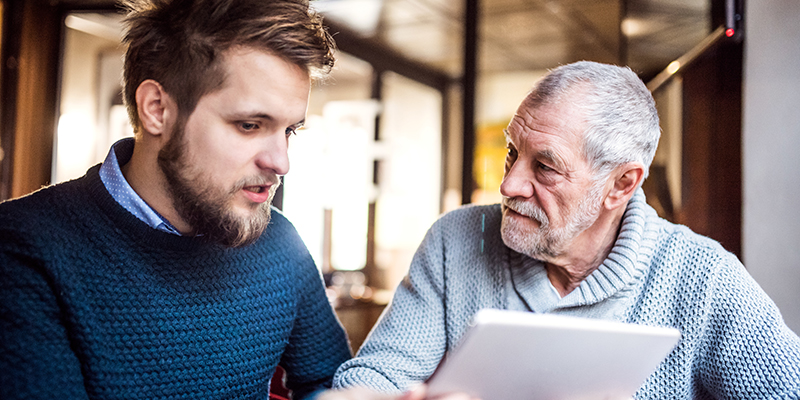 Can your loved ones get easy access to your assets if they need to?
Susan Chandler, VP, Private Wealth Advisor
Marilyn Ames, VP, Private Wealth Advisor
We talk with clients every day about how to ensure a seamless transition of assets to loved ones when the time comes. Because we know that, without that kind of holistic estate planning, the transition can be anything but seamless. In fact, some research suggests than nine out of ten families hit rough water during an estate transfer.1
One reason for the turmoil? Not all assets are as simple to hand over as your grandmother's diamonds or your antique coin collection. We're talking about the assets you access digitally. All those logins and passwords and two-step authorizations are meant to keep your assets safe and accessible to no one but you. That's great, as long as you're in charge.
But if you become incapacitated or die, this digital safety screen can make it nearly impossible for your loved ones to get to your assets—their assets—even if that's exactly what you want. If you don't have an estate plan, or your plan is more than a few years old, consider sitting down with a financial professional like us to make sure you're covered.
To help prepare for that meeting, here are some important steps you can take to open the digital doors for your loved ones if you can't do it yourself.
Take stock
Without detailed instructions, it will be a nightmare for your loved ones to access your digital life without your help, especially the parts that have heavy security, like savings accounts, investments, and other assets of value. To help set your loved ones up for success, make a catalog they can use to access your digital life. Start by listing financial assets, like:
Bank accounts
Investment accounts
Employer retirement plans
IRAs
PayPal accounts
Insurance plans
College savings plan
Nonfinancial assets that may have monetary value, such as domain names you own
Also include debts and obligations accessed digitally, like:
Mortgage
Car payment
Credit card balances
Other loan balances
Health insurance premiums
Life insurance premiums
Memberships and subscriptions
Finally, list any important personal assets or information, such as:
Medical records you access electronically
Photos and videos stored in the cloud or on your computer or smartphone
Any other important digital documents
Passwords to your computer, phone, and tablet
Try to make the list as exhaustive as possible, even though you may end up a little exhausted in the end!
Create a catalog
The next step is to turn your asset list into a spreadsheet or table and add everything needed to access each asset. At minimum, record the asset name, owner name(s), asset holder (a bank, for instance), url, account number, login, password, PIN, and answers to secret questions. Note any logins that require two-step authorization so your loved ones or representative can be prepared.
Also, specify who should be allowed to access each asset in your catalog and what you want done with the asset if you become incapacitated or die. These instructions should become part of your estate plan and your trust, if you have one. Because a will becomes a public document, it may not be appropriate to include your list there. A financial professional can help you determine the best place to house your instructions.
Use a vault
Until you have a digitally savvy estate plan in place, consider using one of many different password manager apps, such as Dashlane, Keeper, LastPass, 1Password, or KeePassXC.
A password manager is an encrypted digital vault where you can store all your login information and passwords, all accessible by one master password. Sometimes you can also store important documents, such as digital copies of your passport, trust, will, powers of attorney, transfers on death and, eventually, your estate plan and digital asset instructions.
Sharing your master password with your spouse, loved one, attorney, or executor will give them access to all your digital door-openers in one place.
Keep in mind that, even with a password manager, it's still critically important to use a variety of strong, unique passwords to reduce the risk of identity theft or being hacked. The password manager app may be able to generate unique passwords for you.
In general, it's getting easier to access and pass along digital assets. That's because most states have adopted a law called the Revised Uniform Fiduciary Access to Digital Assets Act (RUFADAA). The law gives some legal backing to those you authorize. However, most account issuers won't give family or even executors access to someone else's digital accounts without official instructions. And that could mean delaying access to or even losing precious personal photos, email, or even financial assets.
By creating detailed instructions, you can spare your loved ones from more losses and grief. We and our Umpqua colleagues look forward to getting to know your hopes and goals so we can help you realize them.
Learn more
Are you sure your family and beneficiaries have legal standing to access your assets? The financial professionals at Umpqua Wealth Management can help make sure your legacy transfers to the appropriate heirs at the appropriate time.
Reach us at (833) 898-0973 or WealthManagement@UmpquaBank.com.
Source
1. "Sustaining family wealth & unity across generations." The Heritage Institute. https://omrf.org/wp-content/uploads/2013/10/Elements-of-Heritage-Planning-2011-28-11-1.pdf