June 07, 2019 | Feeling at Home
Getting married? Timing is everything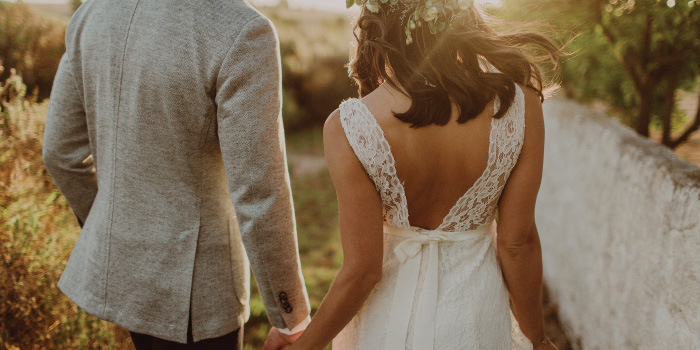 To save money, pick a wedding date that's right for your region and budget
When it comes to getting married, everyone has an opinion. Ask your friends and family and they'll likely tell you that June is the best month to get married. Maybe.
Most weddings take place in May through October. But this also means that those months are the most expensive for couples based on the economics of supply and demand. For those getting hitched on a budget, we suggest you take a creative look at the calendar depending on your location.
Whether you're getting married down the street or packing up for a destination, you might want to skip your location's high season so you can keep more money in your pocket.
Let's look at the five U.S. regions to identify the months in 2019 most advantageous to planning a spectacular wedding on the cheap.
Wedding budgets for the Big Apple
Average wedding ceremony and reception venue costs in New York City hover around $10,000. If you need to come in under that, we suggest skipping the popular wedding months of August, September and October.
While you may be dreaming of a summer or fall wedding (with temps in the 60s through October), we suggest you opt for early November if you choose to get married outdoors in New York City. Be careful about stalling until later in the month unless you don't mind the possibility of snow on your wedding date.
New York City in November is still surprisingly comfortable with highs in the mid-50s. However, lows do bottom out in the 40s—so plan accordingly. If you're getting married near the eastern shore, remember that hurricane season isn't officially over until November 30.
April is a good, often overlooked choice for outdoor New York weddings. Demand is low and the average temperature in New York City is pleasant (highs in the 60s, lows in the mid-40s). But you may want to stay away from an outdoor venue as it can be quite rainy.
Of course, indoor weddings are a lovely option for anytime of year. But keep in mind the extra costs of four walls and a roof, especially in New York and many larger eastern urban areas.
Getting married inside a church or public hall is a good way to save on an indoor wedding. These venues are abundant and, in many cases, historically significant and architecturally stunning. And what about planning nuptials for a private home or city hall? Serious! Nothing says "kitsch" quite like tying the knot at city hall.
Marriage costs Chicago style
Venue costs in Chicago will run you $9,000 on average. Unless you're sold on a warmer wedding date (May through October), you can save a huge chunk of money by booking your wedding during the winter and early spring.
April and November are your best bets during the offseason. Highs during both months can push into the 50s.
Now the chance of rain and thunderstorms in April are high, and it can drop below freezing in November. However, with the right planning and a little bit of luck, you could swing a gorgeous outdoor wedding during late April or early November on a budget.
If you find a great indoor venue for your Midwest wedding, consider booking it in January or February to cut your costs.
Nuptials in the Sunshine State
Ever imagine getting married in Florida? The average price for a venue in Tampa will run you just under $6,000. And the Sunshine State is much warmer year-round than the Midwest and the Northeast. You'll need to keep that in mind, especially if you don't want to roast while having an outdoor wedding. Because of the heat in the South, some couples opt to stay away from June, July and August weddings.
The most popular wedding months here are May, September and October. Even November has a fair number of weddings.
December through March are the least popular wedding months in this region. But luckily, Florida in January can be the perfect temperature for a wedding. In Orlando, the average high for this month is 72 degrees, with lows in the 50s. Florida could really be your spot if you're looking to save on a venue.
Weddings in the West
April through October is peak wedding season in the western U.S. Whether you're getting married in Seattle or San Francisco, you'll want to dodge those months if you want to get the most bang for your buck. With that said, Seattle has some of the lowest venue costs in the country. Securing a space for your ceremony and reception will cost an average of $4,000. That is a good $5,000 less than San Francisco.
Consider a winter wedding in the West as the temperature stays relatively mild up and down the coast. You'll have to watch out for rain north of San Francisco, but Los Angeles stays nice enough even in January for an outdoor celebration.
Head to the Southwest for a winter wedding
Southwest states like Arizona, New Mexico and Nevada can be brutally hot and humid in the summer, making an outdoor wedding a sticky proposition. Getting married there in July and August, in particular, is less popular for that reason.
If you're planning a Southwest wedding, set your sights on December through March. That's when temperature and wedding costs drop to more comfortable levels. December can be difficult to pull off because people are so busy with holiday plans, but that's precisely why you'll be able to book a venue inexpensively.
And that's important because a spot for your ceremony and reception in Reno or Vegas can cost you upward of $10,000.
Picking your wedding venue
If you have an outdoor venue in mind, you'll want to stay away from the rainy season in your region, unless you have a solid back-up plan. If you aren't at the mercy of the weather, you can save a lot of money by booking in the offseason. You could save enough to go on an exotic honeymoon or make a down payment on a house.