June 16, 2017 | Family Life
A Baby, a Kidney and a New Home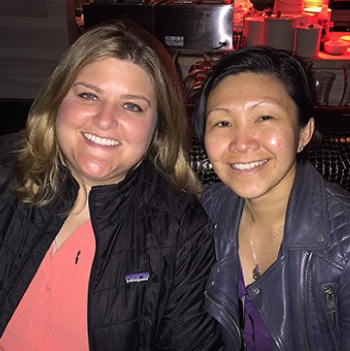 Our Direct Lending Group is a team of experienced home loan officers who work primarily over phone and email, delivering both convenience and personalized expertise. But who better than our customers themselves to explain what they truly do?
This is Holly and Theresa's story. Life came at them all at once as they prepared for a new baby and a new home, and then had a surprise surgery. Holly sat down and told us her story of how her family got home.


House-Hunting with a Baby Coming
Like so many couples, when Theresa and I pictured life with a baby, we also pictured a bigger house and a yard. That meant selling our house and buying a new one.
As second-time homebuyers we had just as many questions as the first time around— just different ones. With a baby on the way, we were on a tight deadline to find our second home. What we didn't realize was that we'd both need surgery. I needed a new kidney, and Theresa would be the donor.
Amidst all these stressful changes, our home loan officer, Trask, was there for us. He was always just a phone call away—though we mostly traded emails. With email, we could send him a question as soon as we thought of it, and respond to his questions whenever we had a spare moment— even from the waiting room at the doctor's office.


The Big Moment: Had We Found Our Second House?
Just in time, Theresa and I found our perfect house. When the appraisal came in, Trask emailed it to us and immediately called to say, "Here's what it means." He answered our questions before we even knew what to ask.
There was one little problem: the house would cost a bit more than we'd expected. Could we afford it? Once again, Trask put our minds at ease. He came to our home after work and ran us through all the numbers again: "Here are your finances, here's how it works. It really works."


A Sudden Surgery and a Big Decision
Then came one of the craziest days of our lives: the day Theresa and I both went into surgery while deciding whether to put in an offer on a house.
Theresa was about to give me one of her kidneys—a gift she'll be hard-pressed to beat! A surrogate was carrying our baby, but we weren't expecting this operation on the day we'd make an offer on our new home.
We were literally prepping for surgery when I sent Trask a frantic text message. Did he really think we could pull this off?
My phone buzzed right away. Trask immediately called to say, "Don't worry about it. Just focus on the surgery. I'll call you if I need a signature."
I replied: "Let's do it. Make it happen."
And of course, he did.


Ready for the Future
We're moved into our new home, recovered from surgery and our baby is due any day now. We're ready to start this next chapter in our lives. I sent Trask a text the other day thanking him for keeping us going, even when it seemed the odds were against us. With his help and support, the impossible became possible and we're super happy.
If you're ready to find your next home, you can call our Direct Lending office at 866-470-2852, email them, or even start an online application today.