September 20, 2019 | Feeling at Home
Honeymoon on a Budget With These Cost Saving Tips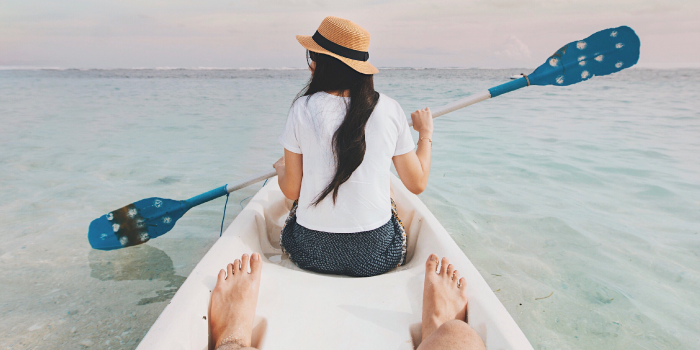 Celebrate love without increasing debt
According to a recent study by The Knot, the average wedding in America costs roughly $33,931. The last thing you want to do after breaking the bank on the ceremony is go into debt to cover the cost of your honeymoon.
The good news is that with a little planning and creativity, there are lots of ways to celebrate your newfound love on a budget that's right for you.
Establish a realistic budget
There are many costs to consider when it comes to planning a honeymoon. The first step is to set a realistic budget. This also happens to be the hardest step because you're trying to balance the desire to make your honeymoon a once in a lifetime experience with your current bank balance.
The average cost of a seven-night honeymoon is $5,342. Depending on your current savings, decide whether you would like to land below or above that budget and work back from there. When establishing your budget, consider the following:
Meals
Lodging
Events & activities
Airfare or other transportation
Taxes and fees (resort related and local)
Local transportation (including car rentals, taxis and ride shares)
Consider A U.S. Destination
Once your budget is established, the next step is choosing where to go to make the most of your honeymoon. Do you need to stick your toes in the sand or would you be happier exploring a foreign city and learning about a new culture?
One of the best ways to save money on your honeymoon is to take advantage of the many great destinations right here in the U.S. Take a road trip through California's Wine Country, experience the charm of the South Carolina coast, get back to nature in the Rocky Mountains or go old school with trips to Martha's Vineyard or Yellowstone National Park. Trips within driving distance, with plenty of free activities like swimming or hiking, can make for a beautiful honeymoon for you and your bank account.
If your heart is absolutely set on an international trip, consider taking a "mini-moon" right after your wedding to a local destination. This will allow more time to budget and save for your dream honeymoon destination.
Travel Smart
Other than keeping it local, the easiest way to save money is to cut the duration of your trip. Fewer days mean fewer costs. Here are a few additional cost-saving tips to keep your honeymoon budget friendly:


Go during the off-season
Flights from North America to the Caribbean typically cost less during the fall. Flights to Europe cost less during the cold months of January and February. Figure out the least popular times to visit your preferred honeymoon destination and go then. Sure it might be a little colder, but the savings will keep you warm at night.



Fly smart
Book your flight ahead of time, but not too far ahead. Many travel guides say that airfare is cheapest when booked 6 to 10 weeks in advance. Tuesdays, Wednesdays and Saturdays are the cheapest days to fly, according to Huffington Post. Avoid traveling during the holidays when airfares skyrocket. You'll also save by choosing non-direct flights-always a good option if you're not in a huge hurry.



Use your points
You'll already be charging all kinds of wedding expenses to your credit card, why not choose a card with points that can be redeemed for cash back? Each time you receive cash back, put the money towards your honeymoon fund. The more you spend, the less you'll have to shell out for airfare.



Skip luxurious lodging
Do you really need to stay in a 5-star hotel? You'll likely spend most of your time outside your room exploring the city or walking the beaches. Or skip the fancy hotel and explore options on Airbnb, bed and breakfasts or, if your spouse allows, even camping under the stars.



Dine in
When booking your lodging, choose an option that includes a kitchenette so you can whip up meals for yourself. It will be cheaper, healthier and will make eating out at restaurants more of a special occasion.



Register for your honeymoon
If having a killer honeymoon is super important to you, you could ask your wedding guests to contribute money to a honeymoon fund rather than purchasing tangible gifts from your registry. You'll be able to tell your guests all about your trip with thank you cards and they'll feel great knowing they helped make your dream trip a reality. Cutlery sets are overrated anyway.