August 22, 2017 | Family Life, Feeling at Home
A New Home for Baby - Not a Moment Too Soon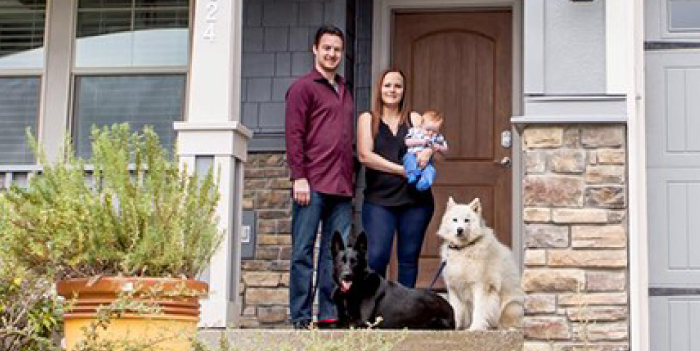 Our Direct Lending Group is a team of experienced home loan officers who work primarily over phone and email, delivering both convenience and personalized expertise. But who better than our customers themselves to explain what they truly do?
This is Angeline's story. She and her husband wanted to sell their house and buy a new one before the arrival of their first baby. But when she went into labor just as they were about to put in an offer, things got more than a little complicated. Here's Angeline's story of how her family got home.


Now or Never
I just woke up and said, "It's now or never."
I had been talking to our Umpqua Bank loan officer, Trask, for five— yes, five— years about selling our house, but something was always in the way. First, my husband started his own chiropractic business. Then, just a week later, he was in a bad car accident. The recovery was tough. When we were blessed with the news that our first baby was on the way, we learned a few days later that my husband would need back surgery to fully recover from the accident.
Trask was there through it all; he just kept running numbers for me and saying, "When you're ready, you're ready."
That morning, I was ready. Yes, at this point I was near the end of my pregnancy, and while my husband's surgery was a success and his business was starting to break even, we felt far from secure. But we were living in a smaller home. The neighborhood wasn't as kid-friendly; it didn't have many sidewalks. I worried that if we continued down this path we'd be there for years, and wouldn't give ourselves a chance to grow.
We called Trask and were preapproved that day.


"Close early and come home"
Being a second-time homebuyer is a completely different situation. Trask and his team were just what we needed to navigate buying and selling. His team was so speedy. If I had a question I'd have an answer over phone or email within minutes. And I knew it wouldn't just be a fast answer from a random order-taker—but a personal answer from him and his team.
And boy, did we put that to the test.
We were getting ready to put in an offer on a great home— more space, a little out in the country but still convenient— when I called my husband.
"Are you with patients? What's your schedule for the rest of the day?" I asked.
"No, why? Do you want me to bring home dinner or something?" He said.
"Well, you should close early and come home. My water broke. Probably cancel your patients for tomorrow too."
My husband flipped! "I'm on my way!"


Right On Time
As we rushed to the hospital (with a quick stop at a drive-thru), Trask and his team worked with our realtor to keep our offer moving. They made sure all the details— like our 20% down payment— were correct, which can be so important in a tight market. I've seen friends lose out to other offers because of the details. Trask let me know I could call or text anytime, day or night, since I was going to be up anyway.
In a funny way, the uncertainty of the home helped me take my mind off trying to deliver my son.
After 24 hours of labor, my doctors decided I needed an emergency C-section, and our offer was ready! So there I was, on oxygen, getting prepped for a C-section— and e-signing documents on my phone.
Our new home came just in time. We signed for the house at 3:30 and our son was born at 4.


Like Family
Trask made me feel like family. He understood the craziness of our lives and my need to raise my son in a better environment. He made sure his team knew what I was going through. He helped deliver the down payment check since I couldn't drive after my C-section. He found so many solutions to make the closing of our sale and purchase fit into our wild life. He pretty much worked with me without getting paid for five years, and then when we needed him most, he was there.
By now we're all settled in our home. We went from 1,100 square feet to 2,750. We can walk through our neighborhood and see horses. Most people thought we were nuts for trying to do so much at once; it was a wild year. But I believed in us, and Trask and his team at Umpqua believed in us, too. We had faith, and maybe a little craziness, and we did it!
If you're looking for a mortgage expert to help you find your next home, our Direct Lending Group is here. You can call 866-470-2852 or email them right now, or start an online application today.