October 11, 2019 | Feeling at Home
Move Smart With Our Last-Minute Moving Checklist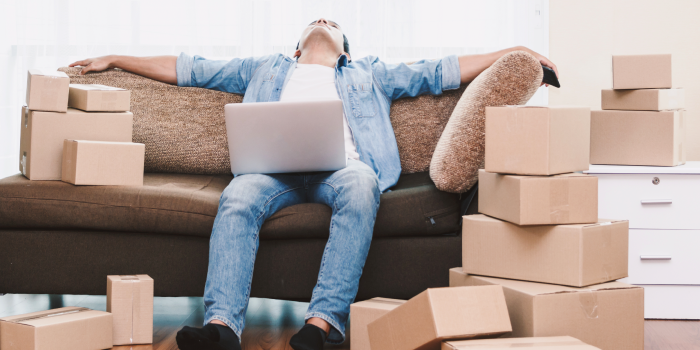 Top Tips for Relocating Quickly in 2019
A marriage proposal. A job offer you can't refuse. A friend or family member in need. Life is filled with unexpected twists and turns and sometimes you find yourself in a position where you need to quickly relocate. Packing up your life and moving can be overwhelming, especially when you're forced to make important decisions in a time crunch. The first step? Make a list that prioritizes your needs without breaking the bank. We've got you covered with our last-minute moving checklist.
1. Pack Smart
There are a number of smart ways to pre-pack that can help you save time.
Leave your shirts on hangers. It's a lot easier for the movers to pack into a wardrobe.
Use towels and soft linens to wrap breakables in a box.
Pack small items in pots and pans.
Pack a small bag of 'moving essentials' that includes important documents and possessions you'd like to take with you on the plane.
2. Simplify and Downsize
Think of moving as an opportunity to simplify your life and get rid of all the stuff you don't really need. Clothes, furniture, appliances, roommates. If you have time, consider a garage sale to make some extra cash. It's;s also a great time to donate large items to charities in your soon to be former city. Many charities will pick up your donated items for free. Check out Donation Town for a list of charities in your area. And remember, the less you have to pack, the easier it is to move.
3. Find Good Movers
According to the American Moving and Storage Association, the average cost to hire professional movers for a local, 2-3-bedroom move is $1,250. That number soars to $4,890 for a long-distance move of more than 1,000 miles. Sure, hiring professional movers can be costly but when you consider the amount of time and money it takes to move yourself, it can be worth the added expense.
For example, according to CostHelper the average cost to rent a truck large enough to move a 2-4 bedroom house is $40-70 per day and 89 cents per mile. If you're planning to move at least 300 miles in about 3 days, the cost of the truck alone could add up to $400-500. Add in hotel, insurance and gas and you're looking at well over $1000.
When you consider the size of your home and the length of your move, it's likely that hiring professional movers will turn out to be a good investment.
4. Schedule the Move
Like a good orthopedic surgeon, the best moving companies are perennially busy. Schedule your move date as soon as possible. By locking in a date, you'll stave off your own impulse to procrastinate and be assured of making it to your new city on time. If possible, try to get a few moving companies to come to your house to provide an estimate. If you don't have time, moving.com's list of professional movers can help you find a reliable company.
5. Sweat the details
When you're making a last-minute move, it's easy to forget important tasks that could cause larger problems during your transition. Imagine expecting an important package but you forgot to forward your mail at the post office. Remember to:
Contact your utility companies to set a cutoff date.
Change your mailing address with the U.S. Postal Service. They will forward your mail for up to a year.
Send a change of address notice to family and friends.
Update your bank account and make sure its still right for you, wherever you go.
Take a deep breath
Don't forget to take care of yourself when relocating fast. Moving is stressful enough as it is, especially a last-minute move. If it's worth it to hire professional help to save you time and stress, go ahead and treat yourself. Don't procrastinate tasks you need to get done, falling behind will only cause more stress in the end. Stay positive and visualize yourself in your new home and exploring a new city. Adventure awaits in this next chapter of life!