10/1/2018 7:00:00 PM | Feeling at Home
5 Last-Minute Home Improvement Projects to Finish This Fall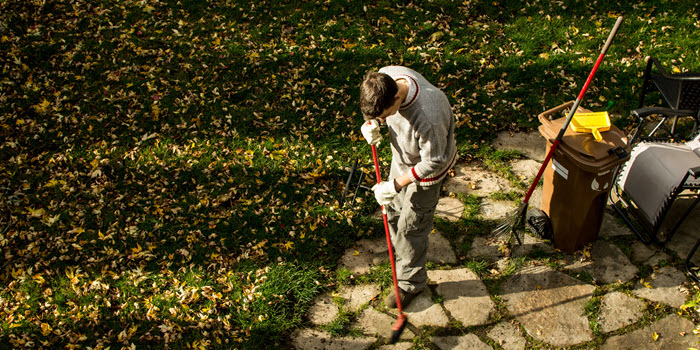 The top 5 home-improvement projects to check off your list before winter comes
A lot of homeowners start the summer planning to take advantage of the sun by tackling some big home improvement projects. But by the time fall sets in, that summer to-do list is far from complete.
If you're asking yourself where summer went, and you still have things to get done around the house, the good news is there are plenty of easy home projects you can finish before winter. As the days get shorter and your budget gets tighter, it's a good idea to prioritize the projects that will protect your house from the elements—and possibly lower your heating bill. Big, ambitious remodels may need to wait until spring, but there's still time for these five fall-friendly home improvements.
1. Clean the gutters
Cleaning your gutters isn't the most glamorous way to spend an afternoon, but this chore can save you money and worry later. You can find a contractor to help ‑- or do it yourself if you're on a budget. Simply break out the ladder on a sunny fall day when debris are dry and dig in.
Clean gutters now can prevent damage later. During winter, snow and ice combined with leftover leaves, dirt and grime can strain gutters to the breaking point. Protect yourself by clearing out your gutters while the weather's still nice so you don't end up replacing them in the middle of winter.
2. Fix your weather-stripping
Fixing old weather-stripping is one of the cheapest ways to improve your comfort. Weather strips seal up doors to keep cold drafts from getting in, but the strips corrode over time and gradually let more heat out. You can buy inexpensive lengths of vinyl or foam weather strips and make a weekend remodeling project out it while there's still a touch of summer warmth.
If your existing weather-stripping is fairly new and looks thick, it probably needs no replacing. You can check by closing the door on a piece of paper. If the paper can move around even when the door's closed, it's time for a replacement.
3. Repair cracks in siding and the driveway
For quick fixes, repairing cracks on your home's exterior or your driveway is easy and inexpensive. It's also a smart preventive measure: during winter, water seeps into cracks, freezes and then expands those cracks into bigger breaks, which can eventually turn a driveway and walkway into a hazard. For the best long-term results, it may be a good idea to hire a professional.
4. Caulk or replace old windows
Weatherizing windows is a home maintenance must. Add caulk to seal existing windows for an inexpensive and relatively quick way to keep out that winter chill.
If it's time for a change, and you have the budget, then consider replacing old windows with newer ones. Vinyl windows generally start at $300 each and take a few days to install, so it's not one of the quickest or cheapest home projects for fall. But if it's in your budget and you want to keep some extra heat in, updating to vinyl or double-paned windows is a smart move. You don't need to replace every window in the house; instead, focus on high-traffic rooms, like the living room or master bedroom.
When replacing windows, though, it's important not to downscale too much. A realtor quoted by Time magazine advises that if original wood windows are an appealing architectural feature, then try to keep them or replace them with windows that will add value to your home. If your gorgeous old windows are letting heat out, you can compromise by sealing them with plastic shrink film.
5. Insulate
Heat rises, which means that once you've paid for your heat it leaves through your ceiling or any open cracks and crevices. There are plenty of insulation options for homeowners to pick from, but if you're looking to make it an affordable DIY project, loose fill or blanket insulation may work best. These are inexpensive forms of insulation which you can layer over existing material, to help keep your family warm and your costs down this winter.
Financing your home projects—both big and small
Many homeowners leverage the existing equity in their home by using a home equity line of credit (HELOC) to fund remodels and other projects. Since it's secured by your property, a HELOC may offer you better terms than other types of credit lines. And since it's a credit line, not a loan, you only spend what you need. Learn more about using a home equity line of credit to pay for home projects—big and small.
As you wrap up your fall home improvements, make sure your money is as flexible as you need it to be. With Access Checking, you get four rebates on non-Umpqua ATM's per month, mobile banking tools you can use anywhere, and up to three complimentary savings accounts (so you can start saving for next summer's remodel).