July 26, 2019 | Feeling at Home
Big move? Here's a relocation checklist to help you make it.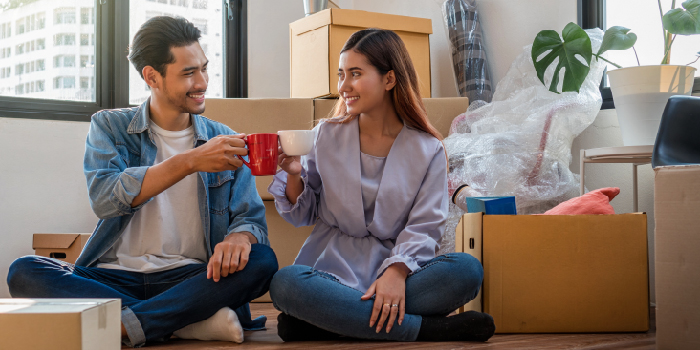 Transitions are tricky. Moving checklists are nice.
Opportunity knocks. How are you going to answer?
If you're weighing whether or not to make a big move in 2019, here is some background and a relocation checklist to help you go bold into your next adventure.
Moving on up in 2019
At some point, we're all faced with a choice. Do we go? Do we stay? There's no right or wrong way to decide whether a relocation is right for you. But there are common reasons why we choose to pack it up and head out.
Jobs. Nothing makes people relocate faster than a stable, good-paying job. And when you consider that the average American can expect to change jobs four times by the time they're 32 years old, that translates to a lot of relocation opportunities.
Love. The internet has taken over the dating scene! Now you can just as easily find love across the country as you can down the block. A third of all marriages in the U.S. are a result of the couple meeting online. And when Cupid strikes across long distances, sometimes the only choice is to pack up and move near that new love.
Family. Parents age. Children grow up and move away. People often choose to move closer to family as life changes and time passes.
Adventure. Whether you need a change of pace or just need to shake things up, relocating can be an attractive path to doing just that.
Still on the fence about your relocation? Weigh your pros and cons. Trust your gut. Stay calm and check out this transition checklist.
Do this before, during, and after your relocation
Moving could be one of the best decisions you ever make, but be thoughtful with your approach. This moving checklist has you covered before, during, and after your relocation.
Set a budget: To be safe, set a contingency amount in your budget because your estimates may be off or things could go south when problems arise. If you're married and your spouse doesn't have a job yet, don't forget to work that into the equation. You might want to build a six-month buffer in your budget in case it takes that long for your partner to find work.

Make a packing list: This will help you determine your budget. Nail down exactly what you'll be taking with you and what you'll leave behind. Try to sell what you're not taking with you – that will help you cover at least part of your moving budget.

Do your research: Have realistic expectations about where you'll work, what your housing costs may be, and what you'll do for fun.

Ask about moving reimbursements: If you are relocating for a new job, see if they'll cover any of your moving costs.

Think about what you want your life to be like in 10 years: Start making decisions now that will lay the groundwork for your future plans and expectations.

Visit the area first: If you haven't been to your new city yet, try to get there before you make the big move. It can help you determine if you feel comfortable there or if you want to reconsider your plans.

Find a new bank: To make things easier, you should already have your new bank account set up before you start your job. Then you won't have to revise your direct deposit information later.

Temporary lodging: You may not find a home you like immediately. Make sure you know where you will stay until you find your dream home.

Map out your new city: You need to know where things like hospitals, affordable gas stations, and grocery stores are. So get out there and explore when you have a free hour or two.

Network: Moving to a new city for a job can be lonely. You're leaving behind all your family and friends. That loneliness may have you second-guessing your decision. Your best bet is to find a strong support system of friends in your new town as soon as you can.

Try to build in some downtime: If your new boss doesn't need you to start immediately and you can afford to be off work for a little while, ask for a week to set up your new home and adjust to your surroundings. That will allow you to get all the details out of the way so you can concentrate fully on your new job.
Stay ahead of the change
Thinking ahead will be the best thing you can do while relocating. It might seem overwhelming, but taking care of what you can in advance will help reduce stress in the long run.
When you start to doubt your sanity for making such a big change, you'll meet a new friend, crush a work goal, or find a new favorite hotspot that will remind you that what you're gaining has been worth it.