9/7/2017 7:00:00 AM | Feeling at Home
A First-Time House Hunt to Remember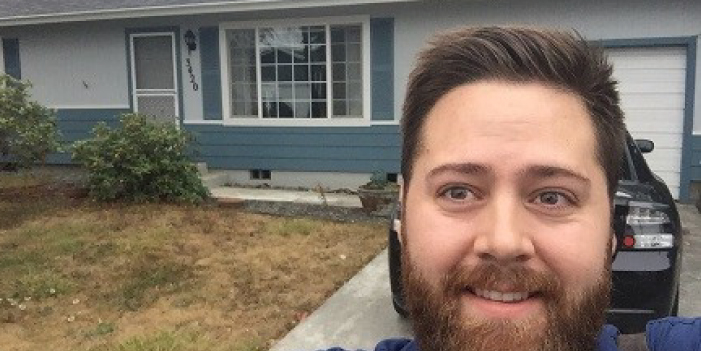 Our Direct Lending Group is a team of experienced home loan officers who work primarily over phone and email, delivering both convenience and personalized expertise. But who better to explain what they truly do than our customers themselves? That's why we asked a real-life first-time home buyer to tell us about their experience getting a mortgage.
This is Jeff's story. Fresh out of school and starting his career, he didn't think he would qualify to buy his first home. It turns out that was the easy part. Here's how Jeff got home.


A Simple Phone Call Pays Off
I didn't know when— or if— I could buy a home. I had heard all kinds of stories about what it took, and I was just beginning my career. I figured I'd have to be working at the same place for several years before I'd qualify for a mortgage.
I called Umpqua Bank on a whim, figuring I'd just see what happens. I probably can't buy right now but I'll get some knowledge and advice, I thought. A loan officer named Rachel took my call, asked me for some information, and prequalified me then and there. I was a little shocked. I thought it would be harder than just making a phone call!
"Well, that was easy enough," I thought. "Now I just have to find a house, and put in my offer."
Not so much.


The Hard Part: House-Hunting
It happened three or four times: I found a house, got my paperwork in, and found out there were ten other offers.
Granted, I live in a more expensive housing market in Northern California. I'm a single guy, buying on a single income. I'm on the lower end of the price range, which limits the inventory. I learned that if you don't put in an offer on the day something went on the market, you get pushed down the list.
For a first-time buyer in a tight housing market, Rachel was the best. She outlined the entire process. She crunched the numbers as many times as I needed, and updated them quickly based on the houses I was finding.


A Long-Distance Partner
I've heard stories from friends and family where a loan officer is just trying to get you into a loan at all costs. Working with Rachel was nothing like that. She gave me the information and options to make an informed decision. I would ask her for advice, and she would say, "If this were me, I would do this because of this." It was great to have someone I could trust.
We never met in person, but I always felt like I had a partner. When I first called, I didn't even realize I'd be working with the same person through it all.
Rachel was there for me, and it didn't even feel like we were working long distance. It felt personal. We communicated over phone and email, but she was so responsive: she would give me information almost immediately or within that same day.
In fact, she'd often answer questions I wouldn't have even thought to ask.


A Home Loan Officer I Could Trust, From Halfway Around the World
Finally, after almost a year of looking, I put in an offer on a house and it was accepted. The only problem: the next day I was scheduled to fly to England for a month-long vacation. I was apprehensive about missing the inspection. But I put Rachel in touch with my real estate agent, enlisted my family's help, and Rachel kept everything moving.


Home Sweet Home
I officially moved in at the beginning of July. After all that work, getting the keys was a bit surreal. It was a long road, then such a whirlwind at the end.
My new house immediately feels like home. I didn't think about this before I moved in, but the floorplan is similar to my childhood home. It feels like a house I remember and have lived in already. I guess it was just meant to be.
Ready to let Umpqua Bank help you find your next home? Just call (866) 470-2852, send us an email, or start an online application today.