7/12/2019 3:00:00 PM | Family Life
Cut Down on Stress by Tracking Costs With This Wedding Checklist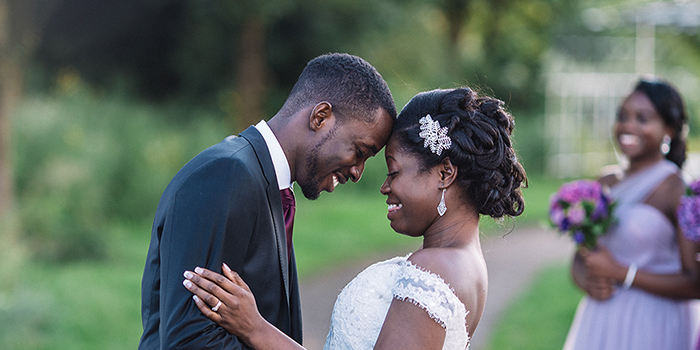 Plan your dream wedding on a budget and with less stress
Weddings conjure the daydreamer in all of us. But before you get too carried away envisioning curtains of satin and lace, ask yourself: can you pay for the fantasy?
The average cost of a wedding in 2018 was $33,931. That's a sizable down payment on a home. Who wants to still be cutting checks for the wedding on their 20th anniversary? Here are some helpful things to consider while planning your wedding budget for 2019.
Bank on people wanting to help you
If there is ever a good time to call in favors from your loved ones, a wedding is it. Your friends and family want to help you celebrate. And they understand the need to make a dollar stretch as you plan your happy day.
If you have a green thumb in your family and you're planning a summer wedding, ask them ahead of time to grow some flowers for the reception. Table top flower arrangements provided by a favorite uncle or aunt are a great way to cut costs.
Do you know someone with a flair for decorating? Ask them for tips using empty wine bottles or Mason jars to hold those family floral arrangements.
To save on wedding reception food costs, ask around for a hand with appetizers and beverages. You probably have family cooks on speed dial who'd be more than eager to whip up a fabulous dish (or three) for the big day.
Figuring out who can help with flowers, food and décor can be a great way to control wedding costs.
Watch the guest list
Every person on your guest list is going to cost you money. Even if they don't attend, you'll still pay for the invitation and postage.
This doesn't mean that you should look at the people you want at your wedding and see money washed down the drain.
Just be mindful that the guest list is a good place to start when planning a wedding on a tight budget.
Don't get stuck on a wedding day or month
If you aren't picky about when you get married, you can save big bucks. For instance, many venues offer discounts for weekday events. Wednesday is the new Saturday!
Throwing a winter wedding can trim hundreds or potentially thousands off your total bill. Fall, summer and late spring weddings are more popular than getting married in December, January or February. Plus, the bride won't have to worry about summer humidity messing with her hair and makeup in the winter.
Checklist for wedding expenses
When creating a wedding budget, get started with this wedding checklist to give you an idea of what expenses to expect. Don't forget to leave room for other surprises that might pop up!
Reception venue rental

Wedding site rental

Transportation between the two sites

Marriage license

Wedding rings

Bachelorette/bachelor parties

Wedding planner

Photographer

Videographer

The officiant

Tux rental or suit for the groom

Wedding dress, accessories such as jewelry and a veil, and shoes

Alterations

Wedding day hair and makeup

Live band or DJ for the reception

Musicians for wedding ceremony

Wedding cake

Rehearsal dinner

Wedding day catering, including beverages if you have an open bar

Invitations, including postage costs

Thank you cards

Flowers

Decorations

Party favors

Gifts for the wedding party

Honeymoon costs
Don't forget that some vendors, such as the caterer, will require a tip in addition to their estimated fee. Inquire ahead about whether the tip is included.
After you've figured out the maximum amount you can spend in each category, you should add a final category to your budget for contingency expenses.
It can help your wedding planning if you have a built-in buffer in case there are additional costs that come your way. A ten percent contingency might be a safe estimate to avoid stress down the road.
Be proactive
There's nothing worse than burying yourself in unexpected debt as the day of your dreams turns into a financial nightmare. With a bit of budgeting and some willpower, you can create a financial plan that will work for you and your spouse-to-be.
Make sure you review your budget before making any big purchases. Set up a weekly budget meeting between you and your partner to help you stay on track and develop a sense of teamwork that you'll rely on repeatedly in your lives together.
You'll feel better knowing you aren't embarking on a shared life with huge debt hanging over your heads.